2006 NHIS 1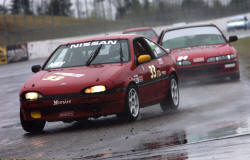 Greg Amy, #33 ITA Nissan NX2000:
Matt Kessler did a heck of a job getting the new Koni struts built in time for this event. Because Matt was not able to accompany us to the event, we really didn't have time to properly work through setup and testing, but we're encouraged that we can finally get this car to handling. The only other physical change we made to the NX was a new center-exit 3" exhaust system.
Thursday test day was pretty quiet except for me nearly spinning in my own anti-freeze. Blew a water pipe cap waaay up under the intake manifold, squeezed in between that and the starter. Advanced Auto saved the day (I needed the motivation to change out the coolant anyway).
Day One of the school was quite the show. Group One drivers (a.k.a., Miatas and a few other things) managed to crease more than a few cars (while putting Serge Lentz on the trailer for the weekend). We all gotta remember that the line into Three crosses the back straight, same as what happens on No Name at LRP; it's an optical illusion that catches more than a few people (like the student that I drove past the T3 turn-in; he got the point).
Side note on Serge's incident: his welded-on steering wheel coupler BROKE OFF at the weld. It literally broke the steering shaft at the weld, for several reasons (I won't get into the technicals unless prodded). Queue now to my past rants on the safety - and legality - of welded-on steering wheel couplers...
Day Two of said school was much better. Much. Nothing more than rare creased fenders and egos. Nice crop of students coming up in the ranks...
Race Day dawned wet. Very Wet. In fact, it was actually sleeting during Group 6's qualifying session. Word of the day: Hoosier. If you weren't on them, you weren't winning. Witness multiple drivers kicking total butt on 'em while others sucked wind (raising hand). I had pretty much zero grip in the corners with Spec Miata full-tread Toyos.
Driver of the day: Erik Shiflett, with a hat tip to Victor, Richie, and Anthony. I grabbed the class lead at the start of the race, but I'd watched Erik whoop tail in ITS in the rain so I knew it was inevitable that I was going to be passed for the lead. No reason to make it difficult for them and he, Victor, and Richie did a good job taking the opportunities (grudgingly) offered...then came the full course yellow then black flags right after. Ah, well...hindsight.
Mover of the weekend: Jeff Lawton. Last session of the day in the Saturday school Jeff's well-prepped SatURN manages to toss out its power steering pulley. The SatURN uses a serpentine belt to run everything, including water pump. Fortunately for Jeff, he spins in his own boiling anti-freeze (sensing a trend here?) and pulls it in. Commanding his god-like Saturn powers and beaming the SatURN logo on the lowering clouds beckons a couple of local SatURN Performance Club members who leap to his assistance the next morning. They get the car running at the beginning of the qually session (with more thanks to Advance Auto). After having driven the car only four laps in qually (placing 14th) Jeff uses his four laps of rain racing to his advantage (on Hoosier Dirt Stockers) and finishes 7th in class in the car's 2006 debut. This one's a comer.
Unfulfilled anticipation of the weekend: Andy's ITA Miata. Final drive troubles sidelined the Flatout Motorsports ITA Miata, but Andy swapped over to a Spec Miata and got a finish. Personally, I think he's sand-bagging it, but we'll see as the year goes on. That's yet another one to watch.
Chits to be collected later: Mr Hunter tapping Mr Amy in between turns 9 and 10 in the rain. Mr Amy gets to see how far a NX2000 will rotate before just coming back home. It was all Mr Amy could do to get his hand off the wheel to flip off Mr Hunter in the process. Yep, we know he didn't do it on purpose, but that don't mean there's not a debt due... (IMG:style_emoticons/default/cool.gif)
Smooth move of the weekend: Jeremy Billiel. We're standing in line at Makris waiting to be seated. Jeremy goes off on a verbal rant about "those stewards" giving him a ration of grief about his car number/class on the car. After listening to it for about 30 seconds I wait for a pause, put my hand around his shoulders, turn him around and with a wide hand flourish say, "Jeremy Billiel, number 98 ITS, meet your SCCA stewards." Rolly goes, "Oooh yeah, we've met." Smoooooooth, JB...
Proof that things are going right: the ITA grid was populated by a diverse mix of vehicles: VW GTi, CRX, Integra, 240SX, NX2000, Saturn, 1.8 and 1.6 Miati, what else? There was NO ONE sitting on that pre-grid thinking it was a done deal. This is the class to watch in '06.
ITA Top five:
1 - Erik Shifflet
2 - Victor Gangi
3 - Richie Hunter
4 - Greg Amy
5 - Anthony Ruddy
Jeff Lawton, #34 ITA Saturn SC:
I want to thank Brian Austin and especially Justin Hughes for there helpat the New Hampshire International race. Without them I would have packed up before the race even started!!
I was instructing at the SCCA school at NHIS on Friday and Saturday. Unfortunately, they threw me in with all the students that had big bore cars, GT1, GT2, T1, T2, American Sedan, etc. All with a "little" more horse power than my little Saturn!! (like 100 to 500 more horsepower!!)
On the second day, we put the students through a practice qualifying and practice races. To create more traffic, they sent us instructors out to play with them!! Needless to say, they have new found respect for Saturns! One student in an AS Camaro said he was "embarrassed" after I bump drafted (what NASCAR calls it) him up the hill out of turn 3!! [Way to go, Jeff: messin' wid da students! - GA]
On the last practice race of the day, we gridded the students, slowest to fastest to see how they handle the traffic. I slotted myself in 7th. As the green flag waved, I popped out to pass the car in front of me and immediately had two Porsches, two Camaro's, and an RX7 blow past me like I was standing still (OK, so horsepower is everything on the starts!!) [yeah, even da students know how to push on the loud pedal! - GA] Going into turn one, everyone got caught up behind the slower cars. I managed to duck down onto the apron of Turn 1 and 2 and proceeded to pass 11 cars!! Came out of 2 in second place and dragged another instructor in an AS Mustang down into turn 3. Started up the hill side by side when I heard a "bang".....Hmmmmmmmm, a stone hitting the fender maybe?? I realized when I spun in turn 9 in my own coolant, that something "not good" happened. When I got back to the garage, the shredded belt was hanging from one of the pulleys. "No problem", I thought, I have a spare!! As I started threading the new belt over the pulleys, I realized there was no pulley on the power steering pump!! And of course, my spare pump and pulley were at home!! That's when Justine volunteered to come down the next morning with his new Saturn and let me pull the pulley off his car and put it on mine so I could start the race!! Unbelievable!! Due to a couple of issues, that ended up not working. So we sent Justine out to every auto parts store in the Concord, NH area to find the right sized belt that would allow us to bypass the power steering pump. By time he came back, I had already written off qualifying and was prepared to start from the back of the field. But Justine, Brian and a couple others thrashed like crazy and got me out just in time!! As Justine said, I only got in a couple of hot laps (in the rain.....on rain tires..... in a brand new car........)before I got nailed for sound. I guess I made the right decisions on tires and suspension setting cause I still managed to qualify 11th out of 22 cars.
On the start, I managed to pass the row in front of me and had the momentum to pass the next row as well (the Saturn has sooooo much more torque than the Honda/Integra's) when I missed a shift and watched as car after car splashed by me!! I think I may have ended up 12th or 13th going into turn 1?? (Brian and Justine might have a better feel for it) Not a great way to start a race!!
As I said, the suspension and the Hoosier Dirt Stockers were doing incredible the rain!! I was able to power away from any of the Honda/Integra's with little problem. After 3 laps I was up to 7th with my sites on the 6th car when a double yellow came out for one lap due to a bad accident in turn 3. They ended up bringing us in after the 4th lap and we finished the race sitting in the pits while they tried to clean up the accident. The bad news was I only got 8 laps of track time, but the good news is the Saturn can keep up with the faster ITA cars in the Northeast. Very encouraging!!
Thanks again to Brian and Justine for making it happen!!
Justin Hughes, #34 Support Crew
Jef Lawton ran #34 ITA (yeah, THAT one, Walker's old car) at NHIS this weekend for a school and today's race. I went to see him and help out today, and Brian Austin showed today and yesterday. The power steering pulley decided to eject somewhere around turn 3 during yesterday's last session, never to be seen again. This morning we managed to bypass the power steering entirely with a belt intended for a completely basic SL(no AC, no power steering) and got him on track barely in time for qualifying. He was black flagged after 4 laps for being too loud, even though the car was fine yesterday, but qualified 11th in class, a good midpack showing all things considered. We suspect the damp conditions made sound carry a bit more today, resulting in the noise violation. Fortunately he had an additional muffler he could swap into the exhaust in place of a straight pipe, plus the primary muffler he already had, and there were no noise issues during the race.
Unfortunately, the race itself was cut short due to a classic Triumph spinning into a wall at turn 3 (that's just not a lucky turn, is it?) and the resulting cleanup operation. But I was thrilled to watch Jeff move up several positions in just a few short laps between the start and the Triumph incident - mostly taking out Hondas. >:)
Quick video, from Turns 3 and 10:
http://www.kallistimotorsports.com/34ita.wmv
Results, courtesy MYLAPS.COM: