2006 NHIS 2 - "The Perfect Storm"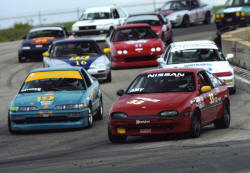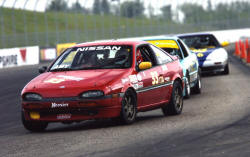 Kakashi Racing's driver Greg Amy pulled the racing trifecta at New Hampshire international Raceway, grabbing pole position, three wins in three races, and a new lap record in the SCCA NER Regional, May 27th and 28th.
"It was a 'perfect storm' of a weekend where everything came together just right," said Greg. "I literally only had to touch the car for tire pressures and check fluids and clean the windshield; all other work was nervous energy and basic checks. I really can't ask for more than that."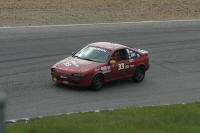 The weekend started out with a frustrating drive in holiday traffic. What should have been a less-than-three-hour drive was stretched to 4.5 hours - tempered only by the fact the Greg's wife Thea and dog Hannah had joined him for the weekend - but once at the track things started to flow into place. During qualifying Saturday morning Greg ran times fractions of a second faster than Anthony Serra's existing track lap record of 1:15.7 and change and over a second-and-a-half faster than the next ITA competitor. It was at this point the team began to realize that the over-five years of work was finally coming to fruition.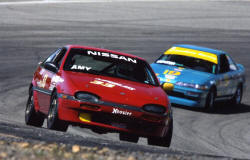 Saturday afternoon's race was both exciting and anti-climactic. Greg worked hard to pull out to an early lead then used that advantage to conserve the car; he won the 20-lap race with a comfortable 9.4-sec margin, and a lap time adequate to place him on the pole for the next day's 16-lap qualifying race. Other competitors were not so lucky, however: the first lap of the race was marred by a large multi-car crash that eliminated nearly a fifth of the field. While there were cars and parts strewn everywhere, fortunately no one was seriously injured. Wallets? Well, that's another matter...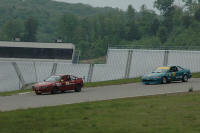 Sunday dawned to yet another hot and clear day. Hearing of Greg's success the day before, ace crew chief Matt Kessler took a break from his duties as engineer of a Pro MX-5 Cup team and drove up from Lime Rock Park to help out for the day. Assisting in making sure everything was "just right - the Kessler way", Matt sent Greg off to yet again another dominating 15.5-second victory in the morning qualifying race. When race results were posted, Kakashi Racing and Greg Amy were handed a new ITA lap record of 1:15.661! Saturday afternoon's race went just as well, with another convincing win chalked up. Total take for the weekend: qualifying pole position, three wins, and a new ITA lap record.
All did not go well for the whole team, however: while Greg was experiencing the joys of victory, Kakashi Saturn driver Jeff Lawton was experiencing the agonies. Between fighting gremlins and being involved in the multi-car crash in the first race, Jeff's weekend was a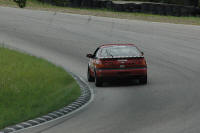 frustrating one. Despite having fallen out of the first race, Jeff did bounce back to post two good finishes in Sunday's two races, showing his true "never say die" spirit. You can be assured that Jeff will continue with his high motivation to be there for more Northeast races this year.
Overall, despite the results, we believe that it's only a matter of time before other race programs, temporarily struggling, come barreling to the fore. We have no misguided expectations that this relative success can continue unabated; in fact we fully expect that the competition will be stronger and ready to go when we go to Lime Rock in three weeks. As one competitor put it, "Enjoy it; it's fleeting..."
See you in two weeks, man.
Results, courtesy MYLAPS.COM:
Sunday Qualifying Race (starting position based on lap times from Saturday's race)