Kakashi Racing Takes 1st, 3rd, and 4th at NHIS!
Kakashi Racing opens the SCCA season "just right" with pole, win, and 3rd and 4th place finishes at New Hampshire International.
#33 Nissan - Greg Amy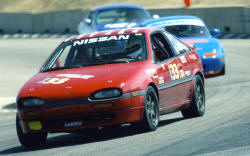 Greg's season with the NX2000 started just like 2006 ended: with a class pole and the win. Greg took the flag-to-flag victory, but not without Brandon Bogart from BB Racing on his tail for most of the race.
This was not a walk-away win by any means. The top 5 cars or so were within a few tenths of each other, and this after a very high-traffic qualifying session. Greg's ongoing nemesis, Andy Bettencourt in the Miata, had unfortunate difficulties with a shifter problem during qualifying, causing him to drop out on the first flying lap and start from the back. Kakashi drivers, Joe DiMinno and Jeff Lawton qualified right there behind Greg, making for a Kakashi 1-2-3 on the grid.
At the start Greg slipped past overall pole sitter Mark Megliola's FP car into the oval and led Lap One; once Mark got his tires heated up he passed Greg going into T3 on Lap 2, and soon moved well onwards out of the way of the ITA field. Brandon made a demon start and tucked up right behind Greg; each time they went into the braking for T3 he'd catch up and they'd drag-race to T6.
As for Jeff and Joe, any pre-race agreements to "work together" in order to move forward literally went out the window when the green flag dropped, and those two had an epic battle, making for the best race of the day.
About two-thirds through the race a full-caution was thrown for Joe's exhaust parts at the apex of T3 (which Greg almost tagged passing a lapped car) and the pace car came out. Greg accurately assumed it was to control the field so a worker could retrieve the part in T3, and he also assumed the field would not stay under its control for a full lap. During the caution Brandon began to slide backwards dramatically, taking the field with him and allowing Mark and Greg to pull out a loooong lead before the green the next time by. From that point forward Greg put it in cruise mode and just managed the spacing, winning with about half a straight to the next ITA car.
Speaking of "the next ITA car", Bettencourt started the Miata at the tail end of the the field and was on a mission to get to the front. He appeared to be faster than Greg, passed the dueling Jeff/Joe Kakashi duo easily, and found himself in second place after Bogart fell out of the race. Imagine Greg's surprise when he took the checkered flag, looked back, and saw what he thought was a blue ITA Miata, headlights a-blazing, just a half a straight back...couldn't be...could it?!? We could not believe that Bettencourt had picked off every car - sans one - to finish second from DEAD LAST!! We were probably as excited for him about that second place as he was.
As for the dueling duo, Jeff Lawton in the Saturn eventually snookered Joe and his Nissan on the last lap to take a well-deserved second place.
A quick observation over the ITA field was that it had 7 different model cars in the first 7 spots for most of the race!!! The ITA battle in the northeast is heating up, boys, and that mosquito is still the car to watch this year...
#34 Saturn -- Jeff Lawton
"Although many people had high expectations this season for the Saturn, I was not one of them. During the off-season, Kessler Engineering had made some changes to the front suspension and I wasn't sure I would see an improvement.
"Our first test day was on April 19th -- the results of which didn't help my confidence. The Saturn seized up the alternator during the first session, throwing the accessory belt and overheating the car. Although we got a few afternoon sessions in, I didn't get a lot of data. Fortunately, I was able to get one good session in while instructing in the school the next day. We compared DL-1 data with Greg's and I noted one place we could pick up a lot of time...
"The data from that session made the DL-1 well worth it: qualifying resulted in a 1:16.72 for P3 on the grid [a 3-second improvement from last year!! - Ed.], only 0.6s behind Greg and .007s behind P2 car Joe Diminno. Bettencourt in his Miata had some bad luck, breaking on the first lap of qualifying and ending up dead last on the grid. A good break for us because we wouldn't have to worry about him...or so we thought...
"As the green flag dropped, I looked in my mirror and saw Brandon Bogart in his 240 already beside me and he quickly passed Joe coming out of Turn 2. Joe and I "worked together" [added those quotes for you -- Ed.] for a few laps trying to catch Brandon and Greg, and trying to distance ourselves from the rest of the pack. After a couple of laps I realized we weren't going to catch the guys up front and I figured Joe was holding me up. I hounded Joe for the next 14 laps doing everything I could do to get by him. Several times I was able to get inside him but wasn't able to make it stick.
"With a couple of laps to go, I could see Bettencourt's Miata slowly gaining on us. He caught me coming out of 10, gave me a 'little' tap, got me loose and squeezed by going into T11. I got a good run out of 12, but he pinched me low on the front straight and then ran away from Joe and me in the oval.
"We finally got the 'one lap to go' sign and as we were coming out of the oval I passed Brandon with obvious car problems [uuuh, he told us he didn't even see Brandon as he passed him...we had to tell him he got third afterwards! - Ed.] Joe took a very wide apex through 3, allowing me to FINALLY get a good run on him up the hill. I passed him going into T6 and despite missing a shift, managed to stay ahead of him.
"What a relief! This is my first podium for the Saturn. And that the car did well despite handling very poorly is encouraging. [Snippage of a lot of specific car complaints...aren't they ever happy?? -- Ed.]
"Stay tuned! - Jeff" [<---Indeed! - Ed.]
Results
http://www.mylaps.com/results/newResults.jsp?id=508551&highlight=2
Video
In-Car Video from Joe Diminno's in-car:
Part 1: http://www.youtube.com/watch?v=WEWKshx-TcI
Part 2: http://www.youtube.com/watch?v=ZlxiX_m1VBw
Part 3: http://www.youtube.com/watch?v=9fdI_4VXBfU
In-Car Video from Greg's car (yaaaawn....): http://video.google.com/videoplay?docid=853923697791917490&hl=en