2001 Progress and Adventures
January 2001 - Well, I thought I could wait, but I just can't. I have to get on this project and start working.
The first order of business is to bring the car back into streetable condition. The NX has a blown engine, a rod tossed out the front of the block. It's not pretty. We don't know what might be salvageable, but we're assuming nothing is. I'm having a hard time finding used engines; most of them have spun rod bearings (lack of maintenance.)
Here's some photos of the car sitting in Matt's shop. I'm working on getting the engine out of the car, but there's no rush; we don't yet have anything to drop in...
February - I love eBay.
Every time I think that eBay will not have something I need, I look anyway. I needed a pair of NX-2000 tail lamps, as the ones on the car were scorched from the fire. Wouldn't you know it, there was a used pair for sale on eBay! I offered the guy half of the new price plus shipping and now I'm the proud owner of them. Excellent shape, too.
I've also contacted Jon Felton at Rosen Autosports for a good racing seat and mounting brackets. My leading candidate is the Corbeau Forza.
March - I hadn't planned on buying a bunch of improvement items yet, but George Roffe worked up a group buy on Ground Control suspensions. I took the bait and jumped in (it was too good to pass up.) I decided to go with 450# front and 400# rear 7" springs. These will likely overpower and kill my Koni non-adjustable street shocks, but by then I'm sure I'll have decided on something better.
In for a penny, in for a pound: I'm looking to hook up with the designer of Nu-Tech swaybars and get a pair of those as well.
May - We've actually made a lot of progress on the engine. We ended up using a crankshaft that had a lot of rust pits on it, and having it re-ground. We just got it back from the machine shop.
This is Matt, probably griping at me for something I broke; and the engine compartment, FINALLY bare...
Here it is 6 days before a driver's school, and we actually think we're going to have it ready, the fools we are... I have to hand it to the guys that are helping me out; they've gotten a lot of stuff done. The car is cleaned up nicely and all four corners of the suspension is out for bushings and brake overhauls. The engine will be done this week and I'm working on scaring up a seat and seat brace, radiator, and a handful of little items that need to be completed in time for this shindig to go off.
Take a look at these photos of the broken engine, as removed from the NX2000 on May 6, 2001. Ugly...
Here's a link for photos and descriptions of how we're installing the Ground Control suspension parts. The big focus here is on what we're using to replace those dinky O-rings they included with the setup...
June - Progressing, but slowly. Obviously, our dates keep slipping, so I'm just of the mindset now to get it done as soon as we can, without compromise. Our focus is safety first, then durability, then speed. We'll see how it goes...
The engine is progressing nicely. The machine work is all done except for the head. Because of the damage we found when we pulled the head from the car, we have decided to use one of the used heads we have extra. The only problem is that the one we chose had all the parts scattered in a box; it's been a chore trying to figure out which cam cap goes where, for instance. As soon as the valve guides are installed and the cam journals have been align-bored, then it will be ready. The bottom end of the engine is ready for assembly; all the rods have been resized and the crankshaft machine work is done. In hindsight it would have been better to go with a new crankshaft at $400 rather than rebuilding this one with a spun bearing. Hindsight is 20/20, you may have heard...
I've purchased a Corbeau Forza II seat and brackets from Jon Felton at Rosen Autosport; just one less thing to worry about getting later. I flew down to Richmond in the Tiger last month when I was in the area on business and met these guys. Super folks.
I'm expecting we'll have it running by the end of the month. From there we get it registered in CT, then we go for starting to prep it to the IT rules. Watch this space...
First Week August - Ah, how the optimistic fall. Would you believe it's time to renew my Novice Permit already? I haven't even had a chance to use it yet...
Anyway, we made a lot of progress today, and that was even without beer (I shoulda brought beer...). I installed the rear Ground Control/Energy Suspension...
Matt started installing the GC/ES front suspension...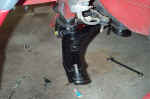 ...and we even got motivated enough to start stripping the interior.
A productive day all around, I'd say. I hope we can get more of these in before it gets too cold up here. Could a Fall school be out of the question...?
Next projects are to have Matt finish the front suspension and grab all the engine parts from the machine shop and begin that assembly project. I'll be working to finish stripping the small parts from the interior, install the recently-acquired NuTech rear swaybar, rebuild the brakes, and get the car on its four corners. One or two good days, and we'll be ready for an engine. There's still a lot of little things to do, like install the fire system, disable the ignition lock, build the seat mount, strengthen the roll cage. I also purchased a used Stack 8130 digital dash system off eBay, so we'll have to engineer that as well (it also has to be sent to Stack in Jolly Ole England for re-calibration; it has a 13K RPM tach for a super bike.)
Lots of things left to go...
Here's some interesting photos. Matt pulled apart the engine with the tossed rod. It's pretty ugly in there...
Second Week August August - Progress!! I spent this last weekend finishing the interior gut, removing the headliner, rebuilding the brake calipers, installing the SMC Products stainless-braided brake lines, and installing the Momo steering wheel with the Smart Racing quick-release hub.
We're hacking away at it, slowly but surely...
Third Week August - We're rippin' now! I spend this Saturday finishing up the brakes. We rebuilt the rear calipers and installed the SMC stainless braided brakes lines. I even got out a couple of liters of brake fluid and gave the whole system a big flush.
I installed the NuTech rear adjustable swaybar. I'm not too happy with the way he designed the mounting brackets, but I made a slight re-design to make it attach to the factory points and it'll work out just fine (I hope.)
I finished up stripping the interior by removing the center console and the central part of the dashboard, where the radio and climate controls are mounted. There was a LOT of weight back there!
I've also removed the stock gauge cluster to use as a template to make a blank plate for mounting the Stack digital cluster I bought it at the Big Auto Parts Auction House (aka eBay) for less than half price. It'll pretty much cover all the gauges that I had planned to install anyway, and it will still allow me to have a speedo. I thought about just mounting the Stack on the steering column like I've seen it done on some Speedvision cars, but with the goal of weight reduction in mind I wanted to remove the factory cluster.
The idea I came up with was to replace the factory cluster with a mounting plate for the Stack. Using the stock cluster as a guide I designed and fabricated a fiberglass composite plate that still mounts to the factory tabs using the factory screws. It uses 4 layers of light fiberglass cloth and a piece of 1/4" balsa sheet for the core. It weighs almost nothing...
The chassis is getting real close. We still have a lot of little things to take care of, but the only big thing left is the powerplant...
Last Weeks of August - We're still rolling along, but these last two Saturdays were short ones due to other personal commitments. However, we did manage to finish up a few outstanding tasks:
Rebuild of the shifter mechanism and bushings
Final removal of interior trim and securing of remaining parts
Removal of the ignition/steering lock assembly and the design and installation of an alternate ignition switch
Design and installation of the window net
Design of the seat bracket system we're using (we're still in the construction phase of it)
Removal of door trim panels and designing of the replacement aluminum trim panels
Beginning the attack on the interior floor sound deadener/insulation
The more we do, the more we realize just how much there is left to do! It's the old "90% done, 90% left to go." The engine is still in disarray, as we battle with the local machine shop to get some work finished on it. We're still trying to decide what to do about the transaxle, as we have two used units of unknown quality. We may just install one of them and hope it's operational, then rebuild the other one at our leisure. Besides the powertrain there are lots of uncompleted little items, things that can drive you batty. We'll keep hacking away, and piece-by-piece we should get it done.
I tell you, though, it's starting to look like a real race car now. Keep a truckin'!
September - This may be the only installment for September, as I have work and personal commitments later this month (like attending the Indy F1 event.)
The only thing I managed to get done today was a horse trade: John Malepetsas of Hartford came down and took away the remainder of the interior parts. I had wanted to find someone that could use them instead of discarding them, and John provided that avenue. However, along with that he brought down a stock short block, one that he had built for one of his customers. We looked it over, took the girdle off and checked out the crank, and bought it off of him for a very reasonable price. Given my frustration with the engine we're building now, this should go a long way to getting us back on the road.
Watch this space, but let's see how the next few weeks go...
First Week of October - The month started out pretty good. We finally have most of the engine parts from the machine shop (never going THERE again) and I've pretty much completed the inside of the car:
- The electrically-operated fire suppression system is installed and tested
- The seat mounting is fitted and designed, we just need to get the final build and installation done
- Most of the interior sound deadening has been removed, and we're cleaning up and painting the floors
- The Stack gauge cluster has been installed, all switches added, and is ready to be wired up to the engine sensors
- Installed belts and window net
I guess we're down to the engine build and drivetrain installation. We do have some other items on the Wish List which we will not do immediately, preferring to get the car running and setup:
- Quaife differential. We'd like to see how the stock viscous differential will work out. Maybe we can replace the fluid with something better...?
- Fuel cell. We'll be stuffing flame suppression foam in there initially, and we'll work on getting a fuel cell in later
- Better rollcage. I've got plenty if ideas on how I want to build it, but I want to do some more research. We'll weld in some stiffening bars for now
- Top-notch header and exhaust. I'm buying a used older-generation Hotshot header and custom exhaust, and we'll work on researching top designs for the future
- Top-notch dampeners. We're starting with Koni Reds, and we'll work on custom-valved shocks soon
- Top-of-the-line wheels. We'll be using stock NX2000 wheels initially to set up the car, then we'll decide on the specs for a couple of sets of Panasports (or whatever lightweight wheels may be available in 14x7, and oddball size
- Sunbelt engine? Can we build our own? We're pretty good engineers, but do we know all the tricks...?
- ECU. SCCA is allowing aftermarket ECUs next year. We'll need to get one to be competitive...
- Top-of-the line tires. I guess that equals "Hoosier." We'll be running Kumhos for the foreseeable future until the rest of the car is sorted out.
As I've always said, "90% done, 90% to go". I'm only concerned that Winter's a'comin', and the shop ain't too well heated...
First Week November - Did I mention this process is painfully slow?
After having a very productive summer, we're finding the "task curve" is starting the flatten out. It's one thing to be able to kick out an entire suspension, but all the little tasks that are left are time-consuming. That's what happens when you do the lion's share fun stuff up front...
We are impressed with how much brain and muscle effort it took to mount that Corbeau seat. We tossed designs back and forth, with the goal of getting the seat as low and as safe as possible. We finally compromised with a combination of the factory adjustable seat rails mounted directly to the floor and some structure welded to the floor. It looks like it will get my butt about 3-4" off the floor, just right. I'll have some digital photos available once we get it cleaned up and painted.
Speaking of painted, I'm also impressed with the amount of time it took to scrape all the sound deadener off the floorboards and paint them. That in itself took a couple of afternoons to get it right. Given that we work on this car only on Saturdays (we both have real jobs during the week) it's dragging out the preparation process.
So, you ask, how's the engine coming? Slowly, I sez. All the machine work is done, now we just need to assemble. We're getting to it, we're getting to it. I've spiffed Matt to try and get it running ASAP, as I want to the car on its wheels and driving before we start to see the severe cold and snow here in CT. Winter's a'coming, Boss, let's get it running!
It's looking good, and we're certainly enjoying working on it. Stay tuned.
Second Week of November - Well, today was my sheisswerk day. Hey, somebody's got to do it...
First off, I took some photos of the seat bracket installation that I promised to some of my friends. I've created a separate page for the seat bracketry details.
Today was clean and prep the floorboards day. What a nasty job. I've been chipping away at the noise deadening for months, and I finally got the motivation to finish it. We got the seat fabrication nailed down and it had to be prepped for painting, so why not...? Lacquer thinner fumes, lots of banging, chipping, and slicing, some busted knuckles, and it's a done deal. That noise deadening wasn't consistent; some places it chipped off nicely, some places it was a bear.
All in all, I think you'll agree it came out pretty nice.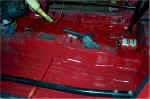 (click for more photos)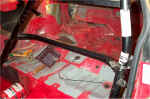 But there's still the whole back end to finish...(sigh)
I also finished mounting the Stack gauge cluster in that plate I fabricated. I'm pretty proud of that little accomplishment. Not bad for a white-collar yuppie, huh?
Well, unfortunately, this is the last time I'll be able to put time into the project until December. I've got plans to actually race (horrors!) with Grover and George at Texas World Speedway next weekend, and the following weekend is Thanksgiving. (I usually look forward to the Holiday season, but I'm getting anxious to get this car running!!)
I've got Matt's assurances that he'll get the engine together, so maybe, just maybe, this car could be running before the end of the year...
12 Nov 2001 letter to the SCCA Competition Board requesting reclassification of several 4-cylinder cars out of ITS. As expected, it was summarily rejected.
Third week November - I actually got to go racing!
Grover Pickering and George Roffe invited me to join them in a 6-hour Regional Enduro at Texas World Speedway driving Grover's Nissan Sentra SE-R (mechanically identical to the NX, different body style). TWS is a favorite of mine, being the track where I drove my first pro race and first school (in that order!), first SCCA Regional, blew up my first engine (holed pistons in a Scirocco - too much compression, not enough octane), and raced my first National event...
It was a hoot! We had some technical problems on Saturday, and only completed 32 laps, but both George and I got our Regionals signed off on our Novice Permits. I also finished third in a Regional on Sunday, meaning I'm eligible for the Regional SCCA license (mission accomplished!)
I learned several things that weekend:
the SR20DE cars are a blast to drive! I can't wait to get my NX2000 running.
Gotta build a good welded cage to stiffen up the structure.
I miss the folks in Texas. I was flattered by the number of folks that remembered me (10 years later!) and it reminded of the good parts about racing, the friendships.
I remember why I don't have a lot of photos of when I raced: I'm too damned busy to take photos! We'll give Thea the responsibility for photo journalism...<grin>
We did take a few photos, but not too many. Thanks to Grover, George, Bruce, Kerry, Joy and Allison, Vinny and Dad, and Linton.
Probably not working on the car next week, it being Thanksgiving and all...
First Week December - It's 60 degrees outside in CT in December! Is this a sign from God or what that we gotta get this little rocket running??? Matt's kicking on the engine, and I'm running out of things to do (but not things to buy...)
02 Dec 2001 letter to the SCCA Competition Board requesting alteration of the FIA homologated seats installation rule. SCCA apparently agreed with my position, and issued a correction in he March 2002 FastTrack.
09 Dec 2001 letter to SCCA requesting clarification of rollcage construction rules, and Mr. Pruett's reply.
Second Week December - Workin' hard at it...
Matt's still working on getting the engine just right. We keep running into small issues as we go along, try to do it right. Not quite the build 'n go we envisioned a year ago.
I made a change in my seat choice. As noted in the letter to the SCCA, I needed information from the seat manufacturer, Corbeau, on their FIA approval, their requested method of installation, and their recommendations for a seat back. After two emails, one US Postal Service letter, and one voice mail, I got exactly zero for a response from them. Nothing, not even a "we got your letter" response. I had requested information on seat brackets one time before that, and got the same non-response. Compare that, however, to Momo. I got an immediate response from a Momo USA rep, multiple emails as we discussed the issue, and he even called SCCA himself to discuss the issue!
So screw Corbeau, I called a Momo distributor and bought a Momo Start seat. Frankly, I like it better. It's fiberglass instead of a steel tube frame, it fits better, and they were very helpful on the installation information (and even have a very good universal installation bracket).
I highly recommend Momo products, not only for their quality but for their excellent customer service and response.
Another major change is that we've mentally committed to building a welded-in rollcage before the beginning of the racing year. This idea will continue to evolve. After all, we gotta get it running first...