1993 Ford E-350 Diesel Cargo Van - SOLD!!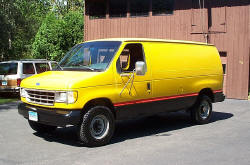 Installed Equipment:

7.3L normally-aspirated IDI diesel engine

254K miles

E4OD 4-speed automatic transmission, recently overhauled

Air conditioning

AM/FM/cassette

Hyster yellow with red and black trim

1FTJE34M7PHB22452

Replaced within the last 9 months:

Four new Firestone tires

New glow plugs

New glow plug controller

Remanufactured injector pump

Remanufactured injectors

New Injector seals, caps, hoses

New ball joints

New tie rod/steering arm, ends

New engine RPM sensor

New radiator hoses, coolant flush

Coolant SCA added, levels maintained

Serpentine belt

Trans filter and fluid service

Comfort/Performance/Longevity Add-Ons:

Mazda Miata black cloth bucket seats

K&N air filter

Banks TransCommand (firmer shifts, trans longevity)

A-pillar mounted EGT gauge, trans temp gauge, and turbo boost gauge (thinking towards the future...)

Coolant filter with SCA additives

Class IV hitch

7-pin RV trailer wiring using factory plug-in harnesses; includes 6-pin and 4-pin connectors

Electric trailer brake controller, wired with Ford factory wiring harness

Locking fuel cap

Interior shelf rack

Plywood flooring in cargo area

Comes with Following Items:

One new spare injector

Complete set new injector caps and hoses

New serpentine belt

2-1/2 bottles of Motorcraft SCA additive

New rear door retaining strap

Haynes workshop manual

Factory workshop manual on CD-ROM

Factory owner's manual and diesel manual supplements

Factory cruise control steering wheel (not installed)

Ford aftermarket cruise control kit (not installed)
General Condition
Despite its high miles, this truck is in very good mechanical condition, ready to go to work! I've spent a lot of time and money making sure that it is mechanically sound; I would not hesitate to use this to tow across the country today. Cosmetically, you'll find that it is clean with only minor issues, including a small dent above the right rear tail lamp (lamp assembly is undamaged), and minor surface rust along the drip rail (which has been treated). A/C has been converted to R-134a, however at the point of this writing the high-pressure compressor hose is weeping and will need to be replaced and the system recharged.
I'm selling because while this truck tows my 5,000 pound trailer perfectly fine, I now need to tow a two-car trailer instead of a one-car (10,000 pounds), otherwise I would not let this truck go. It's a good truck; my loss is your gain.
Location: Middletown CT
2003 15' Econo-Trailer, open deck - SOLD!!
Econo-Trailer ET-15, bought new summer 2003
Open deck

15' Runways

4 wheel, 10" electric brakes

Breakaway kit with battery

5' beavertail dropped 3"

Fenders with full inner panels

Dropped rear crossmember for clearance

White spoke wheels

6-ply rated tires

Dexter 3,500# tandem axles

7,000 GVW

Tongue jack

Safety Chain

21' Total length

7' 11-1/2" overall width

6' 5-1/2" between fenders

Curb weight 1350#

Very good condition