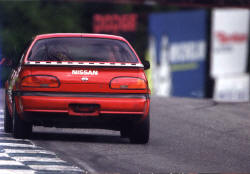 Suppliers (and Friends)
Koni Motorsports, supplier of totally awesome dampuhs.
Carbotech Brakes
FASTtech Limited, supplier of the Race Technology DL-1 Data Acquisition and related systems.
LTB Motorsports, supplier of our Momo products and much of the general "racing stuff" we need. Louis Boustiani will get you what you need, when you need it, and at a price you'll want to hug him for.
Hoosier Tires. 'Cause they rock.
Honda Performance Development
Nissan Motorsports, for their grassroots program supporting racers with technology, parts discounts, and an ear to listen to us...
Raceshopper.com for Hawk pads and many of the rest of the racing products we need. Edwin Robinson is another one of those super of those guys whose number you want to keep in your PDA.
In memory of Over40Racing, supplier of the Wright Device head restraint systems. Jay Wright was, truly, a rocket scientist and his products reflected that.