2003 Adventures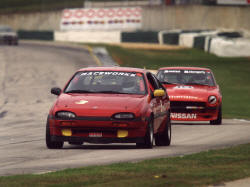 February
Wondering what's been going on? This is a photo of the NX2000 in early February. That's it, the far right hand lump. Under a car cover, under 2 feet of snow.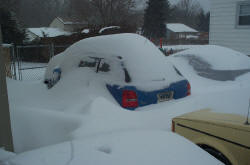 While the NX2000 sat in my driveway collecting snow drifts, my January was focused on two major tasks: getting a new job and building up a Rabbit diesel that I bought. The tasks were related: I had a job interview in mid-December which I was confident was going to lead to an offer, and the Rabbit was purchased (for $100) to be used as a commuter car as this job is a 110-mile daily round-trip commute. I'm glad to report that both tasks were accomplished successfully and as of the second week of February I am employed.
This will directly lead to the continuation of the NX2000 project. As you may recall from prior updates, there were several major points to accomplish:
Better designed chassis-stiffening rollcage (we have a bolt-in Autopower right now)

Limited slip differential and better-ratio ring and pinion

Hoosier tires
All points are in progress as we speak. The tools are in transit to build the rollcage and the material is already here; I've ordered the parts for the transaxle and will be beginning the disassembly, inspection, and reassembly, and we'll order the Hoosier tires when we're ready to hit the track.
Our schedule for 2003 is open right now. We had hoped to focus our Lime Rock efforts on the OMP Challenge, but it appears that this series will not happen; quite disappointing. While we are interested in pursuing the 2003 NARRC championship this would require that we drive on only three tracks in the Northeast: LRP, Pocono, and New Hampshire. Plus it would require that we run all 14 or more events, pretty much keeping us from other venues. Our goals for 2003 are to increase exposure for our efforts, develop the car to its maximum potential, and hit key venues throughout the east coast to learn as much as we can for the setup of this car and to develop interest in sponsorship for potential pro efforts in 2004. To that end we will attend as many of the Lime Rock Park SCCA Regional events as feasible while traveling to varying tracks like Watkins Glen, BeaveRun, Pocono, Adirondack, Mosport, Summit Point, and Virginia International Raceway. Our ultimate goal for 2003 is to win the ARRC Runoffs at Road Atlanta in November.
I suspect things are going to start happening soon with us, so keep in touch and watch this space...
April
If it's not one thing, it's another...
No, I haven't forgotten about you. In fact, I've been thinking about you a lot. You're no doubt wondering that in the HECK is going on with this project. Well, me too. See, I've overcome the major hurdle of finding a job, thus a way to pay for the racing, yet an evil Catch-22 has resulted: absolutely no free time. To combat my inevitable boredom (hah!) I've added a 2-1/2 hour daily commute, pursuit of an MBA, and the love of my life (no, not the car, my wife) has decided that we need to move to a bigger (and closer-to-my-job) house. Added to all this, my bud Matt has decided to move to a new shop. I cannot believe the demands on my discretionary time. Even the most impressive motivational speaker would be exasperated. I've considered alcohol as a means of dealing with the pressure, but I figured it doesn't pay enough...
So, where do we stand? About where we were six paragraphs ago. Absolutely nothing has happened to the NX since the last time we spoke. Oh, well, I guess you could say it's been moved from my driveway into Matt's new shop, but that's about all you could say. True, I've obtained a limited-slip differential and a new ring and pinion. Yeah, I got the Wright Device installed too. However, I've done nothing else. Well, yes, Matt installed a replacement engine and transmission in the Ford Econoline 250 tow vehicle. But nothing else. Really.
Matt has decreed April (well, the second half of April) to be Rollcage Month. It is within this time period he will design and fabricate the rollcages for both the NX2000 and my buddy Jeff's Spec Miata. We still don't know exactly what the year has in store for us (the first race in the NER schedule is tomorrow at New Hampshire) but our goal is to make the Lime Rock open test session the first Tuesday in May. The OMP Challenge isn't happening this year, so we may have to defect and drive Jeff's Miata Memorial Day weekend, but that's OK; our total domination of the E36 BMWs can wait a week or so..
So there we are: way too busy to worry about racing (I hate the process of buying and selling a house!) but lots of ideas. I'm off to a technical conference in Utah for a week (like I needed that to fill my spare time...) Maybe I can convince Matt to sleep at the shop to get some more stuff done...tap on the window in a few weeks, see if he's still breathing, OK?
Mid-May
Well, if it makes you feel any better, I am making some progress.
As noted before I've received the NISMO limited-slip differential and 4.44 JDM-spec ring and pinion and I've carted it all over to a trusted Nissan tech to build the transaxle. I should have that back before the end of the month. Matt is moved into his new shop and has promised to focus on the rollcages for the NX and the Spec Miata; I think he's getting motivated and should have them done by June. The Econoline E250 two vehicle is running and eagerly waiting for a trailer to be attached to; that should come soon after we close and move into our new house (maybe last week of May?)
We have decided to bag our plans of running the Miata Cup race Memorial Day weekend; a combination of not prepared and all of us moving had slid the project to much lower on the priority scale. We are hoping to have the NX built by the LRP race in June. Of course, anyone that has read through the NX2000 chronicles over the last three years is snickering to himself right now.
Hey, we're tryin' <grin>.
Mid-June
A friend of mine told me this past weekend that he was disappointed I've been slacking off on the web site updates (although I suspect he's using it for a competitive advantage!) So, Andy, this verse is for you...
The last month's been pretty busy. I got moved into a new home (with a real garage), Matt got his shop moved to his new place (with this newfangled stuff called "heat" and "running water"). My graduate studies are hopping along nicely and the tow van is finally running good after getting its radiator, fan clutch, and thermostat replaced. I even trundled up the bucks to buy a nice open-deck car trailer. We're stylin' now!
As for the NX2000 we got the transaxle installed (runs good) and bought a set of Hoosier tires. Our goal was to make the one-day Regional at Lime Rock June 14th. We did get the car prepped and arrived at that event with plenty of time to spare (no more last minute thrash. Darn.) Unfortunately, due to a tragic accident the event was cut short and we were not able to race (no worries; you possibly could have stayed ahead of the "cute little car". Maybe. <grin>)
We did learn a little bit about our suspension setup during the shortened afternoon, at least enough to get a good start for the next event. Even though our lap time were a second-and-a-half off our best times to date we did have a pretty packed session of slower cars. I suspect we'll get closer as we continue development. We're confident our strong point in this car is getting the suspension sorted and that's where our focus will be for the rest of the season.
Next up on our plate is a few test sessions at LRP and we'll work to make it to a few Regional races through July.
Last Week in July
Sorry I haven't been keeping the pages here updated. Between work, the new house, a flying trip to Georgia, and other personal commitments, I've been quite busy.
We never made it to a race in July, primarily because of my personal schedule. However, Matt's making a lot of progress on the NX2000. A test session in early July showed us that the suspension just wasn't working at all. We're running a very aggressive setup and we still could not dial out the understeer. Matt finally decided that we had to completely rework the suspension geometry; over the last two weeks he's disassembled and rebuilt the ADS strut housings to change the geometry of the car. We have a test session this coming Tuesday to check it out and see if we're heading the right direction.
Matt has also kicked tail on the rollcage. It's pretty much done and it's a beauty. You could lift a battleship with this thing, it's that strong, and we're confident it will go a long way to stiffening up the chassis. I'll have some photos available soon.
We are hopeful that this coupled to the suspension redesign will dial out the understeer and give us a clear direction for further suspension tuning. Our goal for the year is to attend the ARRC Runoffs in November, if we can get this car dialed in. We'll know Tuesday...
Tuesday, 5th of August - A very successful day
We just spent a day testing at Lime Rock, and it was very encouraging. First and foremost, today we verified that we're heading in the right direction with our suspension development. We shaved nearly 2 seconds per lap of our test day times of last month, and we're finally beginning to come off the stops with our other adjustments (swaybars, shocks). We're not treading on ITS lap record territory yet, in fact, we're not even down to ITA lap record times yet, but we're heading there.
Here's some photos of Matt's cage. He worked his butt off and I think he did an awesome job on the cage. I'm very impressed. Even more impressive is that after it was all done we weighed only 3 pounds more than when we started.
We've got a Regional race at Lime Rock Park this coming weekend, and weather permitting, we'll finally get to actually race this year.
Thursday, 7th of August
We bought a couple of hours on a Dyno-Pack dynamometer at a local speed shop, comparing different settings such as ignition timing, different ECUs, and other things. VERY enlightening information, I highly recommend it...
We've made some adjustments to the car based on what we learned Tuesday, and Matt fabricated a front lower control arm brace. We're about to run out of things to do, we better be getting some results soon...
Friday/Saturday, August 8/9 - Would you believe we finally got a race in?
It was our second attempt, but we finally got in a REAL RACE this year. It was a Northern New Jersey Region Regional Racing weekend at Lime Rock Park. Despite the week-long predictions of "scattered thunderstorms" our weekend stayed dry and we were able to accomplish some more evaluation of the car. While we enjoyed the competition, the verdict is that this car will likely never be competitive in ITS. We've hit a brick wall. Despite making a whole host of changes since last summer we still seem to be stuck in the mid-1:04 range at LRP. It's becoming very frustrating, knowing we've made all these improvements that have resulted in virtually nothing different.
This weekend the ITS boys were running consistent low 1:02s (lap record = low 1:01 and change) and the ITA boys high 1:02s (lap record = low 1:02 and change). We were consistently running low-1:05s with an occasional drop to high 1:04s (our best lap time 1:04.7). The ITA boys (Honda CRX Si and Acura Integra) were duking it out at low:1:02s; we figure it's even going to be tough to beat the ITA cars with this NX2000 (the ITA Integra is 140 hp stock and 2480# race weight; we're 140 stock and 2490# race weight. The Acura has a much better suspension than our car.)
So, we'll try some new things next time out, like adjusting tire pressures and maybe adjusting spring rates, but we have pretty much prepared this car to the limit of the Improved Touring rules, and it just doesn't seem this car will be competitive with the BMW 325is and the 2nd-generation Mazda RX-7. The last part of the equation that we can test is the driver; I'll renew my "NX2000 Challenge" that I offered to the Improved Touring forum: I will give $500 to any driver that can drive this car at, or better than, the ITA track lap record at LRP. There are some limitations, like "if you break it you buy it", but this should satisfy all those persons that still contend this car is competitive in ITS against BMW 325s and Mazda RX-7s. If you feel up to the challenge, contact me for more info.
The next events on our calendar include the Audi Club track lapping event at Watkins Glen August 25/26, and maybe the Summit Point Double Regional Labor Day weekend.
End of August
We attended a Driver's Education Event at Watkins Glen sanctioned by the Audi Car Club of America. This gave us a couple of days of track time at a new track. We were quite pleased at how well the car handled there, and we continue to learn more and more. This was a lapping event, not a competition event, and there's were always street cars all over, but it at least gave us the opportunity to try new things. We're quite pleased with how well this car handled here and frankly can't wait until we get to Road Atlanta to compete for the IT2 Challenge Crown!
Next scheduled event: Lime Rock test sessions September 23 and 30 with an eye towards the OMP Challenge in October.
First Week of October
September was a month of testing and development. We didn't get any races in, but we did manage to attend the LRP Media Day in preparation for the Lime Rock Challenge in mid-October (http://www.limerock.com). We gave rides around LRP to the media, who seemed to enjoy it, and spent the afternoon testing some more settings. Our primary goal, after the LRP Challenge, is to prep for the ARRC Runoffs and compete for the IT2 Challenge prize the first weekend in November at Road Atlanta. In between we'll attend another Audi Club driver's education event, this time at Summit Point, and support a friend of mine attending his first driver's school, also at Summit. If you find yourself in the area, come on by and say hello!
We drove the LRP Challenge at Lime Rock Park in support of the Busch North cars, finishing 11th of 34 in both races and winning the Hard Charger Award.
It was a B-E-A-U-T-I-F-U-L New England Fall weekend. Sunny blue skies, temperature was PERFECT if you're the human-type of species, and there was plenty of parking in the Sunoco paddock allowing us to stretch out and enjoy the weekend. I cannot imagine a better place to have been this weekend.
Kip Van Steenburg won both sprints, with Leverone and Henderson sharing each a silver and bronze between them. The ITA events were won by a Honda CRX Si (sorry, I don't know which one, I'm sure someone else can pipe in here).
One shocker of the weekend was Kip qualifying at 1:00.9. That's right boys and girls: ITS is knock-knock-knocking on a minute's door. Hey, never say never; I know of one strong competitor that told me there's another 30hp left with some development.
The mid-pack view is that it was a mostly-clean event, with no pace car laps required. It appeared that attrition was reasonably low. Some notable exceptions: a couple of ITS Datsun Z-cars getting tangled up spectacularly and making a mess in Big Bend (but most everyone else slipped through unscathed); a red ITS Bimmer that had some troubles in the start of Race Two, leaving splitter parts all over the track as it shed itself into oblivion, but made for interesting watching as he blasted back up through the pack; a GTi popping an engine in Race 1, Turn 1, and was parked there for the duration (the GTi's co-owner also ended up sitting out the races due to a blown engine in his ITS RX-7. Bad Luck Weekend.)
Jake Gulick gets the Hard Luck/Hard Work award for popping an engine early Friday, and going home to spend the afternoon removing another engine from a "spare car" (he said euphemistically). He, Dick Patullo, Ray Lee Chee, and I'm sure a host of others stayed up until midnight Friday changing out the engine and Jake was rarin' to go in the Saturday morning qualifier. Unfortunately, it tossed the water pump belt during that warm-up, overheated (leaving coolant in the braking area and runoff at Big Bend) and only made it a few laps into Race One before having to pull in with a seriously smoking engine. Those guys did a super job, just had some hard luck. On the plus side the gnats went away at least for an hour afterwards. Get that lump fixed and let's go to Hotlanta, Jake; first round's on me.
Another Hard Work Award goes to my crew chief, Matt Kessler. Thursday night we concluded we had lost a brake master cylinder. None were to be found in the state of CT, southwestern Mass, or southeastern NY. Of course Nissan had a master cylinder unique to this car...Anyway, Matt FINALLY found a master cylinder at a salvage yard Saturday afternoon and got it to the track and installed in time for the race. Coupled with radical suspension springs, ride height and alignment changes (done in 40 minutes prior to the qualifier) with suggestions and springs borrowed from our competitors (Phil Phillips, Nick Leverone and crew, Ray Lee Chee, Anthony Serra, and I'm sure others) Matt not only got me in the race but we had the car hooked up and I dropped a couple of seconds off our best lap time for the weekend. 24th to 14th in the first race, and status quo in the second. A super effort all around, thanks.
Of significant note was the absence of Anthony Serra after the start of Race One. Anthony was very strong all weekend and kept screaming by me during practices; it's obvious he's got that thing hooked up. He told me this was to be his last ITA event, as he's selling the Acura and building a Production car, so we all expected him to finish up the year in style. I noted, however, that he was absent from the restart of the second race, and by the time we got back into the paddock at the end of the event his parking area was stripped clean and he was nowhere to be found. I refuse to comment on rumors; I'd much prefer him to provide the facts, but it's obvious that things didn't go his way this weekend.
As I sat there during Saturday afternoon in my paddock space I had a lot (and I mean A LOT) of younger-generation "kids" come up to me and want to talk about my car, my competitors' cars, and the Import Challenge race. They all told me, and it was obvious, that they were there for the Import Challenge and were visibly annoyed at the Busch cars (plus, the Busch race was boring, with the pace car out every 5 laps or so). These are the people we need to attract to SCCA Club racing and as spectators at LRP and I'm very sorry that we won't be able to do it again. I think it would be a loss to LRP's business to not have these cars back. C'est la via.
Overall, a super and very enjoyable event. Glad to have been a part of it.
Third Week of October
Attended the Audi Club's Driver's Ed event at Summit Point. Got some skidpad time and didn't piss anyone off.
Fourth Week of October
Drove back down to Summit to support my buddy Jeff Frederick on his first SCCA Driver's school in a Spec Miata. He had a blast.
November 2003 - Kakashi Racing Takes IT2 Pole and Win at ARRC 2003!
We attended the ARRC Runoffs at Road Atlanta, November 7-9. Read all about it here. I'm so glad the season's over, I'm simultaneously running out of time and money...
December
The NX2000 has been sitting in its trailer since we returned from Road Atlanta. We're bedded in for the winter, but we've got some project ideas up our sleeves...Keep your eyes peeled here for 2004 news and activities...