2004 Progress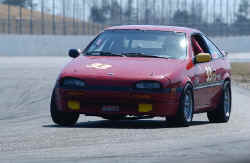 January - Well, we've had a heck of a winter. Unlike last winter where the NX was sitting in my driveway covered in snow, this year it's sitting on the trailer in my driveway, covered in snow. I figure we'll pull it into my garage within a couple of weeks and start doing basic maintenance to get it ready for the annual tech session in early March.
SCCA has continued to resist reclassifying this car, claiming that it will be too fast for ITA. That leaves us smack-dab in the midst of E36 BMWs, 2nd-generation RX-7s, Datsun/Nissan Z-cars, and now the Porsche 944S. Therefore, we've pretty much decided to discontinue spending further money developing this car, as it's all being pissed away; this car will never be remotely competitive with that group. Instead, I did what everyone else in SCCA is doing to resolve their dissatisfaction with SCCA's classification process: I bought a Miata to turn into a Spec car.
The car's a 1994 1.8L Miata. It was too good a deal to pass up, as it came with all the equipment I wanted including the Torsen diff and a hard top. It's even got a bunch of installed accessories that I can sell to assist in the project. Short term it will be a street car while I gather funds to build it, but I'm expecting that by mid-season it will be on the track as a Spec Miata. I will update the progress as we go along, interspersed with the NX news on these pages.
Coupled with my buddy Jeff's 1990 Spec Miata, it appears Kakashi Racing is now a three-car team.
More news to follow; watch this space!
February - Not much to report, other than the weather is REALLY cold and I'm not doing too much work on anything. Matt is working on the white Spec Miata, and I'm assisting by staying out of the way...
Early March - We cleaned up the NX2000 and took it for its annual tech inspection. The guys found a couple of small items, but overall it's ready to go. We'll probably take it out some time in May. Also, we got the "team" together and took some photos for Grassroots Motorsports. They will be doing an article on us and the car (and our tribulations in ITS) some time soon.
Late March - Took the white Spec Miata to a Performance Driver's Association lapping event at Lime Rock Park. This was the car's initial shakedown cruise. Unfortunately, it was a dreary day. Cloudy, showery. The first session was dry, but cold; all subsequent sessions were damp and/or outright wet.
During the second round of sessions an A/S Pontiac Trans-Am oiled up the track from NoName through the uphill; workers tossed clay absorbent all over it. Of course, mix a wet track, oil, and kitty litter and you end up with oily mud...
During the next session the track was red-flagged, and it stayed red for at least 10-15 minutes. I was in the B-paddock but didn't hear any announcements...soon thereafter a train of wreckers came down under the bridge, and hooked up to the lead wrecker was a really messed-up 2003 BMW M3. And I mean SERIOUSLY fudged: front end knocked off, tail punched in, back glass gone, roof seriously creased. You could hear the collective "sheeee-it" as it proceeded past, into the hot pits. Best I can figger he looped it on the right hander entering NoName and backed it into the inner earth wall. I'm quite certain he got an upside-down view of the world, judging by the scratch mark on the hood, roof, and decklid (which was sitting on the ground next to him).
My second session was soon up and I hit the damp track. It was absolutely dreadful: oil all over the track (almost lost the tail twice in Big Bend, and that was tippy-toeing around), mud in NoName from BimmerBoy, and kitty litter/oil mud all the way up the Uphill. After negotiating that mess for two laps I figured I had nothing to gain by continuing (and a whole lot to lose by wrecking Jeff's car) so we loaded it on the trailer and came home.
Matt swears from now on he will never make a car ready before May...
End of March - Christmas came early for us this year!
According to the May 2004 SCCA Fastrack, the SCCA Comp Board is recommending that the Nissan NX2000 get moved to ITA!!! This totally changes our plans for the immediate future! I've yet to totally absorb the news, plus it's always a possibility that the rug will get ripped out (after all, it's only a recommendation subject to BoD approval) but this means our Spec Miata plans may be derailed. We'll continue to move forward on Jeff's white Miata (and probably drive it several times this year) but this will certainly reinvigorate the NX2000 development program. I believe the Nissan B13 chassis will be competitive against the current crop of ITA cars.
News and views to follow soon!
First week of April - We attended a lapping day at Lime Rock in the white Spec Miata, courtesy of the Performance Driver's Association. Unlike last month's event, today was a nice day, and the car owner, Jeff Frederick, joined us to get some track time in. I got to finally toss that little car around, and I'm impressed. The Miata is a super fun car to drive, very tossable, confidence-inspiring, and predictable. I felt as comfortable in that car as any I've ever driven at LRP and I was impressed with the handling and brakes. Even better, despite having both swaybars set at the most-understeer settings (to let the car owner gain some track time without worry) we were lapping LRP at times very competitive with the SSM cars from last year.
Best of all, Jeff could not stop grinning. He's overjoyed with his new ride, looking forward to attending the LRP driver's school and Regional in May!
Next stop: the NX comes out of hiding at New Hampshire next week. I'll be in the Saturday driver's school (I've never driven there before) and the Sunday Regional race. Come by and say, "hello"!
18 April - We attended our first event of the year, a New England Region event at New Hampshire International Raceway. I had never been to this track before (!) so I entered the Saturday SCCA school for the track time. And I'm glad I did! NHIS is a fun but very technical track; without the guidance of Scott Haven and other instructors I would have been lost out there on Sunday.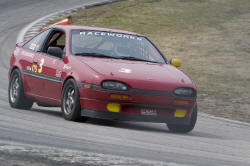 Sunday was a very good day. Ours was a combined ITS/ITB group of 34 cars; because of the track time the day before I managed to qualify in 8th. The start was excellent and I jumped up to 6th on the first lap. An incident caused us to be behind the pace car for 4 laps, and the race was black-flagged to straighten out some unintentional jumping at the restart, but by the time the dust had cleared and the race was over we finished 5th overall, dead in the midst of some pretty tough BMWs and RX-7s! We're delighted in the result, but we harbor no visions of grandeur: we were still 2 seconds per lap slower than the winners and 1 second per lap slower than the ITA qualifying time. But we'll get there!
Next Event: NER Regional, Lime Rock Park, May 8th.
08 May - We just got home from a 2-day Driver's School/Regional at LRP. I was on on-track instructor for the Friday school and shepherded by buddy Jeff Frederick through his second school and first Regional in his new Spec Miata! Team Kakashi rolls on with a new member! Jeff did an awesome job and we're proud of him. As I mentioned to him at dinner, "Welcome to my alcoholism!"
Our Saturday race was a toughie; this was a one-day event at LRP and we had to get 9 race groups through qualifying and races in only 9 hours. It got done, but not without some nail biting. Check back in a few days and I'll have more details, but we finished 9th out of about 25 cars in class, and my best laps are still in the mid 1:03 range (the best ITS time was 101.9; the best ITA time in a shortened race was low 1:02 and change.) The ITS/ITB session was a crashfest, with cars littered all over the track. We got a "Black Flag All" after lap 11...
No damage, good finish, and we learned that we have a long way to go, even in ITA...
Our next event won't be for a while, as I'm away spectating at the Indy F1 race for the June LRP event. We'll work on the Nissan's suspension some more, and maybe it'll poke its head back into the sunshine in mid-July. Stop by and say "hello" to Jeff at the mid-June driver's school/Regional at LRP.
June - Kakashi Racing is featured in Grassroots Motorsports Magazine!
06 July - Kakashi Racing tries its hand at Spec Miata - and we basically get our butt handed to us on a plate! Details here.
07 July - We spent the day at Lime Rock Park testing out Matt's latest gem, a new rear swaybar. Big enough for ya? Believe it or not, we could still use some more rear roll stiffness! Regardless, we were quite pleased at the testing results, being able to maintain our best laps consistently through the day.
11 July - Kakashi Racing takes two class wins in the NASA Pro Racing event as part of the HyperFest activities at Summit Point West Virginia, while setting new SE-R Cup track lap records in the process! Details here.
August - Kakashi Racing is featured in Nissan Performance Magazine!
28 August - Jeff and Greg teamed up in the Spec Miata for the Race Against Leukemia 3-hour Enduro at New Hampshire International. It was a blazing hot and humid day, but Greg, Jeff, and Matt had an excellent time running the super-dependable Spec Miata to a second-place finish (15th in class.) Even more encouraging, we managed to put in lap times competitive with the class, and that's on a 130,000 engine! Most importantly, we had a blast.
04-06 September - Jeff and Matt took the Spec Miata to Summit Point Raceway for the MARRS 8 Labor Day weekend while Greg stayed home to actually be productive for a change. This is only Jeff's fourth race weekend, but he trophied 3rd in class! Look out, world!
First Week October - SCCA has officially announced in the November Fastrack the reclassification of the Nissan NX2000 and Sentra SE-R into ITA in 2005! All these years of work have finally paid off. Of course, now it means that all excuses are moot, and it's time to get to work...when you're outclassed anything you do is an improvement...be careful of what you wish for (just kidding; we're ecstatic!)
01-02 October - Greg and Matt ran the NX2000 in ITS for the last time (see re-class note above!) in the Northeast Division's NARRC Runoffs at Lime Rock Park. It was a beautiful Fall New England weekend, and Matt's prep showed itself with our not having to touch the car except for suspension tuning. The race was an unqualified success, with Greg placing 11th out of 27 starters and posting a personal best lap time of 1:03.25. The only troubling news of the weekend was that the ITA top drivers have moved the goal post on us again; Anthony Serra set a new LRP ITA track lap record of 1:01:6 (ITS cars were only 1:01.0!)!! Next year is going to be a ton of fun!
Third Week October - Greg is scheduled to attend the Potomac-Chesapeake Audi Club's HPDE at Summit Point (Oct 18-19), followed by co-driving the PhilTireService.com Team GTI Golf in the 13-hour Charge of the Headlight Brigade (Oct 21-23).Watch that web site and this one for details and updates as they happen!
October 21-23 - Team Kakashi lead driver Greg Amy co-drove the Phil's Tire Service Golf GTi to a class victory at the 13-hour Charge of the Headlight Brigade Oct 21-23, also turning the team's fastest race lap n the process! Click this link for the full story!
November 2004 - Well, the books are closed on yet another "racing season". A lot has happened this year, and a lot has been accomplished. I'll write up a synopsis of the year soon, to be uploaded here, and we're working to consolidate our goals for 2005. With the move from ITS to ITA the prospects are very bright. Our short-term plans will be to spend the winter focusing on further improvements with the NX, primarily replacing the dead-stock engine with one fully prepped to the IT rules. We have a lot of optimism for success next year!
October 2004 - Greg Amy Co-Drives to Enduro Victory!
August 2004 - Kakashi Racing Featured in Nissan Performance Magazine!
July 2004 - Kakashi Racing Wins SE-R Cup and Sets New Lap Records!
June 2004 - Kakashi Racing Featured in Grassroots Motorsports Magazine!
January 2004 - Kakashi Racing Begins 2004 Preparations!