Greg Amy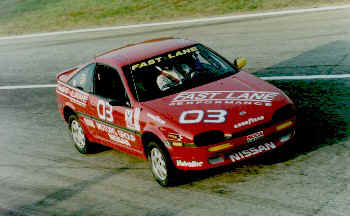 Greg is an over 35-year veteran of amateur and professional motorsports. As a teenager in the early 80's building hopped-up Volkswagens (how much trouble can one get in a modified Beetle?) he became acquainted with an SCCA member who channeled his driving aggression towards SCCA autocrossing. Realizing that the VW Beetle was not an optimal autocross car, Greg decided to try his hand with a 1969 Merlyn Mk 11A Formula Ford in B Modified for a couple of years. He soon progressed to water-cooled VWs by building his first road race car, an Improved Touring (ITA) VW Rabbit GTi.
After having managed to roll that GTi in his third driver's school (quickly learning that one cannot really take Hallet's Turn One flat out, despite rumors to the contrary), Greg moved to an ITB Scirocco, then later to another IT Rabbit GTi, and soon thereafter accepted delivery of a Showroom Stock B Dodge Shelby Charger after its last eligible SCCA National race. That car was prepared to Improved Touring A standards and Greg found himself competitive through the 1987-1988 racing seasons.
Greg's success with Dodge products led to his purchasing and preparing a 1987 Shelby CSX turbo for Showroom Stock A National competition. That car carried Greg to numerous wins, a Divisional Championship, and a steady progression in subsequent Vavoline Runoffs, placing 25th and 7th 1989 and 1990, respectively. Greg switched to an Eagle Talon turbo for the 1991 Runoffs, finishing 5th. 1991 also saw Greg competing in two 24-hour endurance events, the Longest Day at Nelson Ledges (ITS Mazda RX-7) and the IMSA Firehawk 24 Hours at the Glen (1991 Eagle Talon).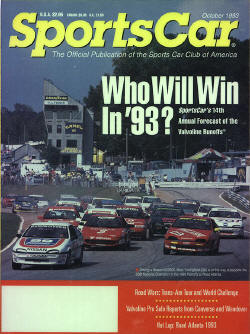 1992 saw a slight turn in direction as he acquired a Nissan NX2000 to compete for the Showroom Stock B National championship, and moved from his home in Texas to Connecticut to be closer to the team. That year was a successful one, resulting in a couple of wins, an SSB track lap record at Mid-Ohio, and culminating in a Bronze Medal finish with a new Showroom Stock B track lap record at the 1992 SCCA Valvoline Runoffs at Road Atlanta.
Soon thereafter Greg chose to take a sabbatical from competitive motorsports in order to pursue personal and professional goals. These included career advancement, marriage to his wonderful wife Thea, and obtaining his Private Pilot's license with Instrument Rating. Greg also purchased and refurbished his own light airplane, a 1977 Grumman Tiger.
The racing bug bit again soon thereafter, and Greg found himself co-piloting, with a close friend, an Audi S6 in the 1997 Car and Driver One Lap of America. Having been re-stung by the racing bug, Greg decided to try his hand at non-competitive Driver's Education events with the Audi Car Club of America and the BMW Club of America, among others. He also found himself as a designated instructor for the Audi Club.
But, as expected, Greg found the lapping events weren't enough and began to search for his old Nissan NX2000. He found that car in late 2000 and along with Kessler Motorsports debuted that car in its new Improved Touring S livery in May of 2002, later moving to ITA and a resultant American Road Race of Championship win in 2006.
Soon after, Greg became partners with Jeremy Billiel in an ITS Acura Integra; a replacement Integra (after a car-destroying crash at Watkins Glen) was built to Super Touring Light specs and campaigned in SCCA Nationals/Majors and subsequent Runoffs. A 2008 Honda Civic Si replaced that Integra in 2015 at the Daytona Runoffs, and continues as Greg's primary SCCA competition vehicle.
Never one to lay low, Greg has now obtained an ex-ITA Porsche 914 that is being prepared for historics racing. Watch for Greg to pop up at a track near you!
Greg is also involved in racing as an SCCA Divisional Steward, National Scrutineer, Regional Registrar, and is also managing the Track Night in America events at Palmer Motorsports Park, Thompson Speedway, and others. He is happily married to his wife of nearly 20 years, Thea Moritz, and they usually have one or more German Shepherds hanging around. Full details on Greg's racing experience can be found here.
Jeff Lawton - ITA Saturn SC
Jeff Lawton purchased his first sports car, a Porsche 944, in 1991. The following year Jeff began running it in the Porsche Club driver education events. Jeff used that 944 to tune his driving skills at Lime Rock Park, New Hampshire International Speedway, Watkins Glen, and Bridgehampton race tracks. Feeling the need for more speed, Jeff prepped that same car for the sophomore year of the Porsche Club Racing Series. The need to go faster never ends, so after several years of PCA racing, Jeff sold the Porsche and bought a race truck to run in the American Race Truck series.
These trucks used a GM chassis with a fiberglass body, almost identical to the NASCAR Truck Series trucks, incorporating a sealed 305 engine, mild cam and a two-barrel carburetor to keep performance (and costs!) down. Jeff raced that "truck" every other weekend, mostly at the Waterford (CT) Speed Bowl. Unfortunately, the grinding schedule took a toll on his family and personal life so he sold the truck part way through the season. Despite throwing in the towel early, Jeff finished the season 6th out of 23 drivers.
Jeff took the next couple of years off to spend time with his young family and to work on his Masters degree, but the "need for speed" never left: shortly after finishing school, Jeff saw his old Porsche for sale; he took this as a sign!! He bought that same car back and began prepping it to SCCA Improved Touring S specs for the 2002 season.
After two years of frustration with a car that was uncompetitive, Jeff sold the Porsche and purchased an Improved Touring B VW Rabbit GTi, and ran that car competitively in the 2004 and 2005 racing seasons. With serious development work (and gracious assistance from Kessler Engineering and Greg Amy), Jeff showed success by finishing 3rd in the NERRC series and 6th out of 43 in the NARRC series in 2005. He also had a successful first drive in an endurance race, teamed up with Kirk Knestis, Greg Amy, and Phil Phillips to win the 12 Hours at the Point in ITB.
Jeff is currently the primary driver of the Kakashi Racing ITA Saturn SC, a car built and finely honed by James Walker and crew of SC2 Motorsports.
"Crazy Joe" DiMinno, ITA Nissan Sentra SE-R
A plumber by trade, Joe started his racing "career" at an autocross in a friend's car in 2000. Joe beat the car owner at that first event and got the bug...
His first on-track time was at a PDA event at Lime Rock Park in his 2000 Honda Civic street car; that, of course, only caused him to want to get more involved. Soon after that he bought a 1991 Nissan Sentra SE-R to turn solely into a track car. After a few years of HPDE, time trials, and autocrossing with PDA, SCCA, and EMRA he finished his first SCCA race school in 2002. Joe got his nickname from Charlie Baylor, an SCCA instructor at that first SCCA school, after a crazy attempted braking pass into Pocono's Devil's Elbow. Joe ended up in the grass right in front of where all the instructors were watching.
Joe Completed his second school at Watkins Glen at the end of 2002 and won his first race he ran in the rain-soaked SCCA Regional following the school. Unfortunately, the limelight wasn't to last, as he totaled the SE-R at LRP, hitting the guardrail in the infamous Uphill turn.
Never one to give up, Joe came back in 2004 with a rebuilt car and has been thrashing (and developing) it ever since. You can bet there will be more to come...
Jeremy Billiel, ITS Acura Integra
Jeremy purchased his first car while in high school, a 1988 Honda Prelude. The car was not fast, but it was the beginning of Jeremy's fascination with the Honda Motor Company. Being a kid in high school and always wanting to race cars, it wasn't long before Jeremy wanted to go faster; his next car purchase was a 1989 Ford Mustang 5.0. The problem with the Mustang was simple: it only did one thing well and even that was questionable. Jeremy quickly sold the car and wanted something that handled well and something with horsepower: time to go back to Honda?.
Jeremy purchased a 1995 Acura Integra GSR with only 22,000 miles; and it had VTEC! Between 2001 and 2003 he ran many autocross events; the car was fast, but he found autocross - while enjoyable - were just not his "thing". As a result, open track events soon followed.
2004 came and the interior of the car went. He also install a Kirk Racing roll bar, a racing seat, and 5 pt belts in the 'Teg. In August of 2004 he completed the 3-Day Skip Barber Racing School and had his SCCA competition license! The Winter of 2004/2005 was used to race-prep the Integra; in 2006 he finally made it to a double school at NHIS and he hasn't looked back since.
Tim Rogers – ITA Nissan NX2000
Tim Rogers got his first exposure to to grassroots motorsports when he he worked on Georgia Tech's Formula SAE team during its program's initial two years. At the same time he did a little autocrossing with the Atlanta region SCCA but wanted to do something "bigger".
Teaming with John Leverett (whom he met on the FSAE team), in 1989 Tim bought an ITC 1972 Datsun 510 that had a few "issues". Racing primarily at Road Atlanta, Roebling Road and Charlotte Motor Speedway, the pair developed the car from a backmarker to one that challenged for podium finishes.
After three years the two amicably parted ways, and Tim put his racing ambitions on hold. He bought a new Nissan NX2000 in 1993 and became active in the SR20DE community. One day saw an online post from one Greg Amy, a name he remembered seeing race at the Valvoline Runoffs at Road Atlanta in an NX2000. Tim replied to Greg's post and asked if he was "the Greg Amy" he had seen race some ten years previously...
Now Greg's car was in IT trim and Tim crewed for Greg at Road Atlanta's ARRC for three years. Tim subsequently bought the car when Greg was ready to move on to new challenges. After successfully completing driver's school at New Hampshire Motor Speedway in April of 2008 under the tutelage of Greg Amy and Jeff Lawton, Tim entered the ITA race the next day where he qualified second to Crazy Joe Dimino; after a little 'mountain climbing incident" exiting turn 4 on the final lap he finished 6th.
Tim is currently engaged to his fiancé Heather and they are proudly sharing their house with Lola the black Lab and their cats Milo and Natasha.