2006 Progress
(Updated 28 December 2006)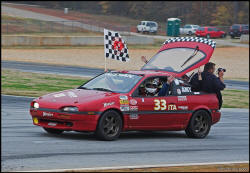 Race Year Wrap-up
Jeff Lawton was laughing at me (Greg) at the last event of the regular '06 season. Seems at the start of the year we had no idea of how we would do except for an expectation of some limited success (e.g., shoot for the first win, get reasonable finishes, run some tracks we've been meaning to for a while, have fun, etc). I had expressed no interest or priority towards the NARRC championship; in fact, I said as much publicly on the Improved Touring forum, noting that the championship would come down to someone "that would invest the time and effort to run the entire season". So, the reason Jeff was laughing was that by the time June had rolled around the NARRC was all I seemed concerned about!
What a year, though! 2006 was one of transition in NER ITA racing; there were many new entries and faces, while most of the last two years' pointy-end competitors chose other paths. While we had worked hard many years to get here, we recognized that in a lot of ways we were simply in the right place at the right time. The season-ending ARRC win was but a nice bit of icing on the tasty cake.
Our results in that first rain- and sleet-soaked event at NHIS did nothing to dampen that "disinterested" mindset (but it did dampen the driver's suits...) However, as the season progressed through the first wins at Pocono and NHIS Andy Bettencourt pointed out that I had built a sizeable points lead and that I had a real shot at winning the whole thing. Pretty much right at that moment of realization the season attitude changed dramatically. I guess you could say Andy did it to himself...
It wasn't too long after those wins that Thea and I left on a two-week vacation, inconveniently scheduled right smack in the middle of the mid-summer LRP and the Pig Roast double events. Richie Hunter and Andy Bettencourt tightened up the points battle with their wins and we found ourselves digging in for a hard season fight. It would be a shame to ignore how tight the point chase truly was towards the end of the year; if Richie had chosen to go to Pocono he'd have had the points to be right there with Andy and me. Plus, the relative performance of Andy's Miata towards the end of the year, especially at the double-points NARRC Runoffs, was one heck of a show. We were lucky to have come out of the gates fightin' early, and it was a great relief to have built a sizable enough lead such that we could skip the NARRC Runoffs and not have to worry about that mosquito at LRP!!
2007 is shaping up to be a barn-burner. Let's not forget that, generally speaking, there were many other dogs in this fight in 2006. Andy Bettencourt has shown to be a formidable competitor in his first year in the Miata; what the heck is his second year gonna be like?? Richie was always there, ready to pounce on any shortcomings. Tim Klavana is in a very good car, and is always a force to reckon with; Jeff Lawton in the ragin' Saturn has shown flashes of brilliance - did you know he'd been on three-year-old Hoosier S03s all through '06? What about Ray Lee Chee; are we going to see a full season from him in '07? How about strong finishes from Victor, Erik, the Bogarts, Joe DiMinno, and any of the other 20+ cars out there?
2006 ain't nothing like what 2007's bringin'! We'll see you there.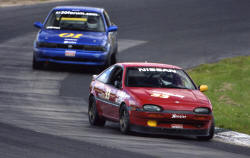 15 March - Here we go, yet another year of spending money...not much has happened since the ARRC last November. Due to other priorities (yes, life does go on without racing) the NX has pretty much sat since that adventure. That's not particularly bad, mind you (after all, other than general maintenance it's pretty much ready to go) but we do have a few things we'd like to tidy up before the April NHIS School/Regional (like a suspension that doesn't suck).
The ultimate goals for the year are to win the ARRC at Road Atlanta in November and to win the NASA Nationals at Mid-Ohio in September. Oh, and to not suck. Everything in between is preparation and fun.
While our proposed schedule may seem aggressive, don't let it scare you, Honda guys; it's simply a list of possibilities. We'll give you the chance to win by not showing up every once in a while...
Remember: to not suck is pretty cool, to win is wicked cool.
Oh, and we're a dark horse to win the NASA Nats, according to Nissan Performance Magazine...
22 April - Kakashi Racing opens the season at New Hampshire International Raceway. Team write-ups here.
14 May - The monkey is finally off our back! Greg took the pole and two wins at Pocono Double Regional! If you've been following us the last several years, then I think you'll understand the satisfaction this brings to us. What a relief it is to finally prove that this has not been a total waste of time, money, and energy. Read our event write-up here.
28 May - And it just keeps getting better! Greg took home pole position, three wins, and a new ITA lap record at NHIS this past weekend. How about them apples? Full write-up here!
17 June - Greg continued a very busy season at Lime Rock Park. We qualified 13th in the rain (on slick Hoosiers!) and battled our way forward to a very close 2nd place, a scant 0.4 seconds behind the winner! It was probably the best race of the weekend, and the most fun in a long time for Greg!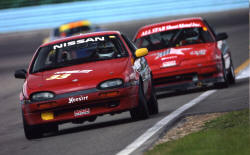 25 June - Team Kakashi drivers Greg Amy and Jeff Lawton joined an all-star team to defend our win at the 12 Hours at the Point endurance race. The team finished 2nd after battling back from early adversity; details at the team web site!
23 July - Greg roars from his 27th qualifying spot to win another race and grab another lap record, this time at Watkins Glen! Details here...
19 Aug - Difficulties plague one Team Kakashi car while another shines at Lime Rock Park...!
10 Sept - Another win, another track record, and this time...a two clinched championships!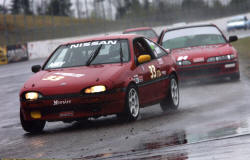 21 Oct - Greg and the NX chose to skip the NARRC Runoffs to prepare for the trip to Road Atlanta, but Jeff Lawton had a convincing finish in the Saturn!
05 Nov - Jeff and Greg co-drove to a second place finish at the 13 Hours at VIR, despite having to overcome adversity. Details here!
13 Nov - Kakashi Racing's Greg Amy and Matt Kessler have won the 2006 ARRC ITA Championship!
2006 Results
| | | |
| --- | --- | --- |
| Date | Venue | Result |
| 16 April | SCCA Regional, NHIS | Fourth of 22 (rain) |
| 13/14 May | SCCA Double Regional, Pocono Int'l | Pole Position and Two Wins! First SCCA wins for the ITA NX! |
| 27/28 May | SCCA Triple Regional, NHIS | Pole Position, Three Wins, and a new ITA lap record (1:15.661) |
| 17 June | SCCA Regional, LRP | Qual 13 (rain); finished second of 15 in class |
| 25 June | 12 Hours at the Point, SPR | Second in class |
| 22/23 July | SCCA Regional, Watkins Glen | Qual 27th; Finished first overall, with a new ITA lap record (1:17.9) |
| Aug 18-19 | SCCA Regional, LRP | Qualified and finished 6th of 18 in class |
| Sept 9-10 | SCCA Dbl Regional, NHIS | A win, a track record, and clinching of the NARRC Championship! |
| Nov 4-5 | SCCA 13 Hours at VIR | Second in Class |
| Nov 11-12 | ARRC Runoffs, Road Atlanta | Pole and Championship Win!!! |
July 2006 - KR Grabs the Win and a New ITA Lap Record at Watkins Glen!!
June 2006 - Team drivers Greg Amy and Jeff Lawton take second at the 12 Hours at Summit
June 2006 - KR crawls from 13th to 2nd place at LRP
May 2006 - KR Grabs 3-for-3 and a New ITA Lap Record at NHIS!!
May 2006 - Kakashi Racing takes two wins at Pocono Double!!!
April 2006 - The Racing Year Starts at New Hampshire!