2007 Progress
(Updated 07 Dec)
As Featured in Grassroots Motorsports!
As Featured in Nissan Performance Magazine!
...and again in Nissan Performance Magazine...!
Welcome to 2007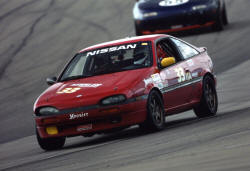 2007. The year after 2006. Soooo...what does one do after a year like that? Eight wins in eleven races, three tracks records, three championships? I'm recycling a slogan from 2004 of "what now?"...
I suppose one route was to "take it to the next level" and try our hand at professional racing, but that's a ladder with tall rungs of varying strengths; many a person has found themselves injured climbing that one. Besides, I'm long past delusions of living my life as a professional race car driver, flitting from motor home to race car to private jet to sponsor gig, back to the motor home back to private jet then off to Monaco... uh, sorry, what was that? Oh right, 2007.
Well, I decided to make 2007 a "fun" year. We took the NX to a few race tracks it hasn't been before or in a while (VIR, Mid-Ohio, Watkins Glen short course, Summit Point) and tried some kinda-new things like NASA (VIR, Hyperfest). This year was the first for the big IT Festival at Mid-Ohio and of course we leaned for the brass ring of the ARRC. 2007 was truly the "year of fun", allowing us to go back to the whole reason we (purportedly) do this racing thing in the first place.
Some highlights included: coming real close (but not quite!) to a friend's ITA lap record at VIR; the overall Big Bore win in the rain at LRP; managing Conover Motorsports' wins at the Nelson Ledges 24 hour race and co-driving to the 13-hour win at VIR; being quite impressed with Hankook tires (and their contingency program!); a very-shortened race in Hunter's Integra at NHIS; learning - the hard way - that Honda CRXs still "have what it takes"; taking the short course lap record at Watkins Glen (to complement the long course record); and the team attained some goals with Crazy Joe winning a few at Watkins Glen and NHIS while Jeff Lawton got his first ITA wins at NHIS! Mixed in with all that we had some real-life achievements of attaining my MBA, seeing the last F1 race at Indy, and even committing to solar energy at the house (another story)...
2008 has some surprises coming; watch this space!
News and Results
March - Kakashi Racing's Greg Amy and the ITA NX2000 appear in the inside-cover Hoosier Tire ad in Grassroots Motorsports (a big surprise to us!), as well as a prominent mention and photo in the issue's article on the 2006 ARRC. Scans to be available soon.
01 April - Greg Amy and the NX2000 take one pole, an overall win on Saturday, the PTE class win on Sunday, and a new NASA PTE track lap record at VIR.
19/20 April - Kakashi Racing take 1st, 3rd, and 4th at NHIS.
12/13 May - What goes up, must come down...the team battles misfortune at Pocono.
18/19 May - DiMinno kicks butt at LRP.
27 May - An ignominious shortened race at NHIS in Richie Hunter's Integra...in a car that can "handle"...!
02 June - Greg Amy co-manages the Phil's Tire Service GTi at the 12 Hours at the Point.
16 June - DiMinno and Lawton place well in a shortened race at LRP. Write-ups to follow.
23/24 June - Kakashi Racing Takes two wins and two thirds at Hyperfest!
4th July - Kakashi Racing Goes 2-3 at LRP!
15 July - DiMinno wins the Double!
28/29 July - Kakashi's Joe DiMinno Blows 'Em Away At Watkins Glen!
11/12 Aug - Kakashi Attends the 2007 IT SPEC*tacular at Mid-Ohio
25/26 Aug - Kakashi Keeps 'em Honest at NHIS
25/26 Aug - Greg Amy co-Manages ITB Team to Victory at Nelson Ledges 24 Hours
08/09 Sept - Lawton Wins the Double at NHIS!
15/16 Sept - Diminno Makes us Proud at the NASA Nationals!
15/16 Sept - Amy Takes the Win and a New Lap Record at Watkins Glen!
28/29 Sept - An ITS surprise at the NARRC Runoffs
06/07 Oct - DiMinno takes the ITA Win at Watkins Glen!
02/03 Nov - Amy co-drives to the ITB Win at the VIR 13 Hours!
09/10 Nov - Amy and DiMinno Do Us Proud at the ARRC!
2007 Schedule and Results
Date
Venue
Result
31 Mar/1April
NASA Race Weekend, VIR
Pole, two wins, PTE lap record
20-22 Apr
SCCA School/Regional, NHIS
Pole and Win
12/13 May
SCCA Double Regional, Pocono
Third
19/20 May
SCCA Double Regional, LRP
Team Takes Top 3
1-3 June
12 Hours at the Point, SPR
Second in class
15/16 June
SCCA School/Regional, LRP
23/24 June
NASA Hyperfest, SPR
Two Wins, Two Thirds
4 July
SCCA Regional, LRP
A DP Win, an ITA Second and Third
14/15 July
SCCA Double Regional, NHIS
DiMinno wins the Double!
28/29 July
SCCA Regional, WGI
DiMinno Gets Pole and win!
9-12 August
SCCA IT Festival, Mid-Ohio
Kakashi Racing Attends
First Annual IT SPEC*tacular
24-26 August
Longest Day 24-hour Enduro, Nelson Ledges
Amy co-Manages the Team to a Victory!
25/26 August
SCCA Enduro/Regional, NHIS
Kakashi Keeps 'em Honest at NHIS
8/9 Sept
SCCA Double Regional, NHIS
Lawton Wins the Double!
15/16 Sept
SCCA Regional, WGI
Amy Takes the Win and Lap Record!
15/16 Sept
NASA Nationals, Mid-Ohio
Diminno Makes us Proud!
28/29 Sept
SCCA NARRC Runoffs, LRP
ITS Surprise at the NARRC Runoffs...
6/7 Oct
SCCA Double Regional, WGI
DiMinno takes the ITA Win!
2/3 Nov
13 Hours at VIR
Amy co-drives to the ITB Win!
9/10 Nov
ARRC Runoffs, Road Atlanta
Amy and DiMinno Do Us Proud!
Tracks
NHIS = New Hampshire International Raceway, NH
LRP = Lime Rock Park, CT
Pocono = Pocono International Raceway, PA
SPR = Summit Point Raceway, WV
Nelson Ledges = Nelson Ledges OH
WGI = Watkins Glen International Raceway, NY