2008 Progress
(Updated 30 Nov)
As Featured in Grassroots Motorsports!
As Featured in Nissan Performance Magazine!
...and again in Nissan Performance Magazine...!
[Greg note: yep, another year come and gone. Many surprises, a couple of them good. My season was light this year, as most of my discretionary weekends were spent with the APR Koni Challenge effort (more on that later). I figured since I had pretty much taken a back seat to the festivities this year, I'd let the other guys do the "Year In Review, 2008 Edition". We suspect Joe is illiterate 'cause all he wrote was "I won, Jeff Lawton lost", but the jury's still out on that (we'll eventually shame him to write something). Jeremy Billiel steps up to the plate to be the first...]
Jeremy's 2008 In Review!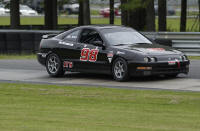 Well another year has come and gone and wow it went by fast! This year I had an abbreviated schedule due to home projects; being sick for the first 5 months of the year with Lyme Disease didn't help! I got in the car for the double at NHMS Memorial Day weekend and had a blast. The test day was very helpful to get used to the car; I had not driven in about a year. By the end of the weekend, I had put down my fastest laps ever at the track and was competitive until I ran out of talent and flat spotted the tires. There was a long layoff until my next race which was to be at Watkins Glen in September...
My partner-in-crime, tGA, was driving the car regularly through the summer months, and we were continuously making adjustments to get the car dialed-in. After finally fixing a long-outstanding VTEC problem (ECU programming), we had the car making good power and the handling was coming to us. Greg was really pushing the car and had some good finishes: numerous 2nd and 3rd places were foreshadowing promise for the Kakashi Racing Integra GSR!
Next up was Watkins Glen. I had never driven there, so I went up early for the test day on Friday to "get my feet wet". All I could say was WOW what a great track! I was slow during the test day, but was feeling pretty good as I had some wet track time under my belt for Saturday's qualifying (which happened to also be in the wet). Greg was in ITS and I was running DP so I was out there with the ground-pounders. After a quick driver change (Greg was in the car the prior session) I didn't have many cars pass so I couldn't have been too slow... After the results came out I had out qualified "tGA" and Crazy Joe! (Don't let those two B.S. you about how track conditions were different, BLAH BLAH BLAH). I was excited, but at the same time I no longer had any excuses...
Unfortunately, this is as far as my weekend got as Greg, while running very hard for 2nd place in ITS, had "an incident" while passing lapped traffic. The car was totaled and the weekend - and the season - was over. Kessler's famous last words on the incident as we walked up to the significantly bent Integra in impound: "Wow this might be a new record for Greg: he totaled 3 cars all at once."
So, we're moving forward: we've purchased a street Integra to turn into Integra Version 2, and it'll soon be on its way up the east coast to begin the rebuild.
What are my thoughts on the season? Well, it was one of many challenges and long hours. For me, as the original car builder, it was satisfying, yet painful in the end. More development and seat time was put into this car this year than had been done in the prior four years combined. We learned a ton about what to do for next time (and what not to do next time). Greg and Matt were huge in helping to get me up to speed and that was very satisfying (thanks, guys!) I didn't get a lot of time in the seat, but all in all another great year.
Oh and did I mention that Kakashi teammate "Crazy" Joe Dominno is the 2008 NAARC champion and Jeff Lawton finished in a very close second (it came down to the last race, just like Formula One!)? Congrats to both of them on a great year!
Bring on 2009!
Jeff's 2008 Year in Review
2008 was a season of lots of highs and a few lows, and plenty of "what ifs".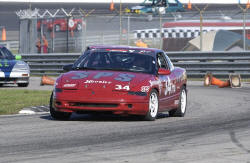 The Highs: four poles, two wins, second place in the NARRC series; 2nd-fastest lap in practice at NJMP; running 7/10ths under the track record (in qualifying) at NHMS, running neck-and-neck with Bettencourt at the last NHMS race; hearing the excitement in my son, Jake's, voice over the radio as he told me how everyone in the stands cheered when I came out of Turn Two in the lead in that race; Kakashi Racing coming in 1st and 2nd in the NARRC ITA Championship; and the best part of all, the first season (of the last three!) without hitting Joe DiMinno!!
The Lows: Forgetting the hood pins for qualifying in the first race weekend of the season; two blown shocks and a bad fourth gear synchro at the second NHMS race weekend; blowing the tranny in practice at NJMP after running a full second faster than the next fastest ITA car; getting the Red Mist and hitting another car on purpose at WGI; getting punted on the first lap of the third NHMS race weekend; constant replacing of rear wheel bearings and brake pads; spinning on the first lap of the NARRC runoffs and getting stuck in the mud; and, worst of all, spending way more money than I had...
The season did exceed all my goals and expectations. I learned how to race at the front (not as easy as it seems), drafting, qualifying and race strategy, and how to run a race/prep program that's close to 10/10s. But the time needed for maintenance - and my inconsistency - was very frustrating. By time August came around I was burned-out from the effort and travel.
We'll have the car and driver ready to go for 2009 with consistency being the primary goal. If we work on that, everything else will fall into place.
So, what's wrong with "I won, Jeff lost"? Pretty much sums up the season doesn't it? And I resemble the remarks Greg made earlier [the word is "resent", Joe, not "resemble"], my parents were married, what does it have to do with typing a yearend write up ["illiterate", Joe, not "illegitimate"]? I thought the year ended Dec. 31st...? [...sigh...]
Anyhow, what can I say, it was a great season! Taking the NARRC and NYSRRC championships were the furthest thing from my mind at the start of the season. I guess this is why we race, ya never know what's gonna happen.
There were, of course, ups and downs to the season. Accumulating 3025 points in the NARRC series with four wins, two second places, two third places, and winning ITA by 625 points topped it all off. The were also a few more wins at WGI. I also set my fastest times at most tracks this year.
The bad of course happened at the most inopportune times, but ended up pretty good in most cases. A blown tire with two laps to go at NJMP and still finishing 2nd; a blown brake line at Pocono and still finishing the race in 6th; having the coil wire pop off at the start of the race at WGI pulling behind the wall in turn one and fixing and finishing the race. These were a few bad thing that finished somewhat good.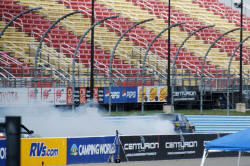 The only real bad thing that happened all season was blowing up the engine at WGI two weeks prior to the NARRC Runoffs. It was a scramble to get a stock engine in the car for the event, but it worked out well.
Well that's all I can type in about an hour. I just wanted to thank a few people before I sign out: All the ITA competitors; holy crap the racing this year had to be the closest most fun I have ever had. Also big thanks to Phil Parlato and Mike Sabatello for the help getting v.3 Sentra looking as good as it did in the beginning of the year. The biggest thanks goes to Mr. Kessler. Without him breaking my chops to build a new tub and helping out tremendously with the cage install and all the set up help and advice all year, I really don't think I could have driven up front all year.
Thanks guys for a great year. Is it April yet?
Greg's Season Recap
Well, you'll read all about what we did below. But, as Jeremy noted above, this was a transition year for us, moving from the ITA Nissan NX2000 project to the ITS Integra GS-R. Lots to learn, lots to do. And, as I noted at the beginning of the season (below), it was not an easy decision. The fact that the season ended with a destroyed Acura makes it a poor decision, but only in hindsight. Hey, what are ya gonna do about it, now? Move on, that's what. New chassis, new build from scratch, and let's see if that FWD POS can't be made ITS-worthy.

The highlight of the 2008 season for me, though, has got to be working with Audi Performance and Racing (APR) Motorsports as a Data Acquisition/Driver Consultant with their Koni Challenge ST team. This was unplanned; In May Jeremy Lucas of FastTech Limited asked me to assist, and we tag-teamed to support APR thorough the year. I've been a fan of APR's products for many years (we run their ECU in my wife's A4), and I've admired their engineering work. Thus, working with the race team was something I really enjoyed doing: I got to travel to several good racetracks, participate in pro racing weekends, and work with a bunch of all-around great folks. As expected, APR "does it right." I had to reset many personal weekend priorities, but I'm glad I did, as I got a lot of satisfaction out the endeavor. I'm looking forward to working more with the team in the future.
Forward (fast-forward, please?) to 2009, boys!!!
Season Recap, Chronological Order
Welcome to 2008!
January: Yep, here we go: another racing year. We're all sitting around in the sub-freezing Northeast temperatures, wondering what's in store for us this year and trying to set goals. Or, just simply trying to get motivated to work on the cars...
2007 was a fun year. We didn't have quite the success we had in '06, but that didn't dampen our spirits or our fun factor. Hey, "fun" is why we do this!
We start '08 with one big, big announcement: the venerable NX2000 has been sold. Long-time Friend of Kakashi Tim Rogers has agreed to purchase the #33 ITA Nissan NX2000 and will be making Road Atlanta the NX2000's new permanent home!
This was not a decision taken lightly. Though we'd offered the car for sale after winning the '06 ARRC gold medal, in hindsight it really wasn't that serious an offer. The car was priced at what we thought an ARRC-winning car should bring, and that was more of an "I'll sell it if I can get this way-too-much for it, but otherwise I'm keeping it" kinda thing. Through the '07 season I recognized that the team had pretty much developed the NX to its full extent; short of dropping in mucho-dinero Koni 2817 struts there wasn't a whole lot of room to grow. Engine was full-tilt with a broad torque range, the transaxle had all it could get, the Kessler Engineering 8611-based suspension was an excellent compromise, and even the chassis was about as good as we could reasonably expect. So, the project had morphed into "maintenance/repair" rather than a development mode; as a result, we soon found ourselves bored with it. It was time to move on.
I'm going to miss the car; we've got a long history together. Though, it's not like the car is simply disappearing; Tim has lifetime technical email and phone support and even though he's a thousand miles away we consider him part of the Kakashi Racing family. We'll work with Tim in a supporting role for the NX2000. We'll also report his racing exploits here, starting with him running a driver's school/Regional in April at NHIS before he takes the car home.
As for other team members, ace drivers Jeff Lawton and Joe DiMinno are continuing in their trusty steeds (ITA Saturn SC and Sentra SE-R, respectively) and will, no doubt, "come together" for success more than once in '08.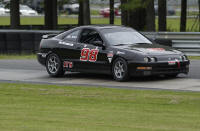 So, where does that leave our #1 driver, Greg Amy, and engineer, Matt Kessler? Matt, of course, will continue to offer his race build/prep services, and Greg will continue to support Conover Motorsports' enduro efforts, both in the pits managing and with an occasional arrive-and-drive. However, friend and Kakashi team member Jeremy Billiel was looking to his ITS-prepared Acura Integra GS-R to pursue other personal goals. He really didn't want to sell the car; but he knew he was going to cut back on his racing significantly -- if not entirely for the short term -- and didn't want his car sitting around gathering dust. The car, on paper, appeared to have potential in that class, depending on how many ponies one can extract from the mill...
So, we've agreed to pursue the Integra in ITS as a partnership, with Greg as the primary driver, Jeremy as the occasional driver, and Matt Kessler offering his top-notch build and prep services. Everything we've developed/learned over these few years will still be there and we'll get to learn and develop a new platform. And, with the SCCA's "VIN rule" changing next year, we may even find ourselves back in ITA with a re-drivetrained Integra, competing against the very rockets we created (gulp!)
You'll hear from other "voices" as the year progresses; hey, everyone says that I talk too much, time for them to contribute! 2008 is shaping up to be yet another wonderful milestone; be sure to stop by on occasion to see what we're up to!
April 13 - Joe DiMinno Wins ITA!
May 11 - DiMinno Grabs a Pair at Pocono! Kakashi comes home with two wins, four seconds...
May 23 - Greg Amy supports APR Motorsports' Koni Challenge efforts at Lime Rock Park with data acquisition and driver consultation...
May 25 - Lawton Leads the Memorial Day Weekend Pack at NHMS!
June 22 - Greg supports APR's K-C at Mid-Ohio.
July 5 - Greg was at Watkins Glen with APR. Thea drove up to join him they really kinda enjoyed seeing the Indy Cars there...and Greg finally realized what an excellent spectator track Watkins Glen is.
July 06 - Kakashi Wins 'em Both at Pocono!
Joe's writeup: "I won on Saturday. Jeff won on Sunday. It was a good weekend." Indeed.

Joe's In-Car video (with brake failure!): http://video.google.com/videoplay?docid=3127918522643288270

(Greg was at Watkins Glen with APR Motorsports...)
July 20 - Team Kakashi drivers Joe, Jeff, and Greg take a shot at the new Lightning course at New Jersey Motorsports Park. Neat track, seriously rewards bravery, trust in the race car, and consistent momentum. But it's FAST, so it's also a power track. The weekend was HOT, HOT, HOT, HOT, HOT. Broiling hot. DIRT AND DUST: I know it's new, and I know they're trying to grow grass in that sandy soil (we called that place the "Hair Club for Men" because of the planted grasses). But, it's this very fine dust that gets everywhere, and ANY dropping of wheels, even the slightest, causes a massive seriously opaque dust cloud to drift across the track; several times I went into a blind cloud at speed and could not - literally - see the front of my car. Where there wasn't dust, there was gravel across the track. Dropping off a wheel (guilty!), even the slightest, shot handfuls of these marble-sized round rocks onto the surface. But, the event ran silky smooth. SNJR and all stewards, volunteers, etc should pat themselves on the back for an event well-run. If you had landed here from another planet, not knowing this was a new track, you'd never know they were working with a new-to-them facility.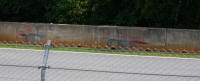 July 19 - Fellow Kakashi team mate Tim Rogers take his "new" NX2000 to Road Atlanta...and puts it in the Turn 5 wall during qually. Hits it hard enough to make a distinctive "stamp" at Road Atlanta (click photo at right). An unfortunate incident. Car is temporarily parked for the season.
Some race notes: unfortunately, Jeff had a short week in that he fragged his tranny during qualifying. Greg managed to pull out a third in class and fifth overall in a strong ITS field, and Joe got a hilariously hard-fought second place, despite driving with a shredded tire for 2-1/2 laps!!! You just GOTTA watch the last two laps and the cool-down on Joe's video (caution: language)!!!
In summary, a neat track, a "Mecca" in terms of value-priced hotels, food, stores, fuel costs, friendly townsfolk. A "PITA" to get to from CT (NJ roads SUCK!!!) though well worth the drive. Big thumbs-up to all!
Results: D Prepared, ITS and ITA (combined)
In-Car Video: Joe DiMinno (ITA) and Greg Amy (ITS)
July 27 - Jeff and Joe make the trek to Watkins Glen. Details unlikely to follow, since I can't get those guys to do write-ups for the web (or, they won't admit that they can't read or write...) Anyway, both got their butts handed to them by a Miata, Jeff got into a little on-track contre-temps with a buddy, and Joe didn't crash (as far as I know). All surprising accomplishments in their own rights...
In-Car video: Jeff Lawton and Joe DiMinno
Greg's Mid-Season Recap...
A few descriptive words? How about: Wow. Confusing. Exciting. Successful! Inconsistent. Frustrating. Unsuccessful...fun? This has been an odd year. Really odd.
First, there's the "new" car for me (Greg Amy), the Integra. We set '08 goals for the project, primarily to see "what it could do" and use the year to develop the chassis, then decide if we were going to keep it in ITS or re-engine for ITA for '09. The year started "OK" but sooner thereafter things got complex, in that I was asked to do data acquisition for a Koni Challenge team (APR Motorsports' three-car GTi program). While to date I've gotten in 3-1/2 race weekends (the "half" being a Sunday-only DP appearance with Jeremy at NHMS) I really don't think I've gotten a real "handle" on that car; I'm confident we're leaving a lot on the table there. And, we've not gotten any closer to that class answer for '09...add in there some work- and personal-related conflicting priorities, and I'm beginning to wonder if just isn't one of those years where we enjoy when we can and not worry about it when we can't...? There is, truly, always "next year", no matter what, and I am glad to be working with Jeremy as partners in this Integra. I've no doubt the program will come to fruition soon. Watch this space?
Speaking of Jeremy, well, he's gotten on the track exactly once this year. He's got a lot of personal priorities hanging out there - recall the whole point of my getting into this car with him was because we was selling - but he's been invaluable when it comes to managing and implementing a lot of the details on the Integra progress. He single-handedly mounted and installed our new Race Technology DASH-2 and DL-1, and has been kicking tail on suspension updates. We'll get him in the car a time or two before the year is out, if for nothing else than to let him keep his license.
Then we come to Jeff Lawton and Joe DiMinno. Here's the "wow". And the "ugh". These boys have been on, seemingly, opposite tracks lately. Joe started the year STRONG - I mean, really strong - to the tune of 5 wins right off the bat, whereas Jeff had some early tribulations, such as a "hood pin wardrobe malfunction" at the opening weekend at NHMS. Joe was winning race after race, and we began to wonder if this wasn't another Kakashi Racing repeat of The Great Romp of 2006. But, just as mid-season began to approach, Joe began to display chinks in his armor: a skirmish with a wall at NHMS, equipment failures, minor driver mis-steps. Soon that dominant NARRC points lead began to fade. Then, at the same time, Jeff began quite the charge, tallying up a couple of strong, well-deserved wins; we had to wonder if he couldn't take the lead, when he had a transaxle failure at New Jersey.
Now, here we are at mid-season, and both Kakashi team members are finding their duffs getting chewed on by a newly-resurgent Integra driver, Geoff Branscombe; as we turn the corner into August Joe still had the NARRC lead, by a slim margin, but it's not nearly the slam-dunk it seemed to be just a month ago. What's going to happen during the charge to the NAARCoffs at the end of the year? Watch this space!
Matt Kessler has been keeping busy, busy, busy. He's now finding himself with a full stable of regular customers, with more always lined up to have him prep a car or build an engine. As usual, he wants us to think he's unhappy with life, but I think we all know better: he's never satisfied 'cause he's constantly striving for more, and we all know he's forever grateful that he's not trying to make a living replacing brakes and wheel bearings on rusty Dodge Caravans <grin>. "Never happy, but never been happier", if you know what I mean...
Then, there's Tim Rogers, or as we affectionately call him, Sir Edmund Timmerly. Timmy had a whale of a time in his new-to-him #33 NX2000 at the April driver's school and the subsequent Regional at NHMS. Then, we managed to arrange quite the leap-frog delivery of that car to his home in Atlanta. Unfortunately, during his first Regional race in that car at his home track, Road Atlanta, Tim had "significant misfortune" in Road Atlanta's infamous Turn Five which left the NX in a state of significant "disrepair". Will Timmy be able to repair the chassis in time for the ARRC in November? Watch this space...
We've got a couple of events coming up soon: I (Greg) am competing in the Pro-IT race at Lime Rock the weekend of August 2nd; this will be the first SCCA event on the newly-paved track, so it should be interesting. We've also got the big IT Fest coming up at Mid-Ohio, but only Joe will be attending: I am joining APR at Iowa Speedway and Jeff is taking a well-deserved wallet break. August has a couple more events that we're all on the fence about, and no one's planning much further into September. You'll no doubt see us at the NARRCoffs in late September and I'll be managing Team Conover's VIR 13 Hour effort again. No one's yet ready to commit to driving all the way down to Atlanta in November...but we're thinkin' about it.
There's an old saw about "you never know what's going to happen; that's why we run the race". Never is that more apparent than this year in the Kakashi camp. Same bat time, same bat channel?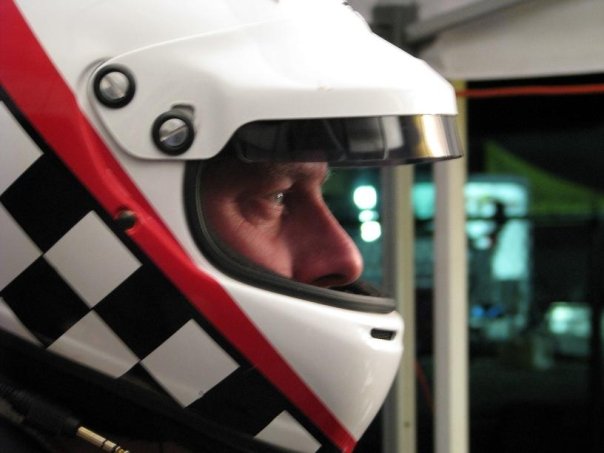 Aug 02 - Greg takes a shot at the Pro-IT weekend at LRP. Figured it was time to knock some more cobwebs off, and see if the Integra could be made to go faster. Plus, it was a new track surface, so everyone was curious...
The event was fun! I like the 1-day Saturday format (no days off from work, home for "honey-do's on Sunday) and while I would have liked to have had more than 15 minutes for practice/qualifying, it really was "enough" if you went into it with the right preparation and mindset.
I had a couple of altercations during the race, and a vehicle equipment surprise 18 minutes into the 45-minute race. Most people behaved, and the results reflect that. Start watching the below video at ~24:00 when we came up to lap a "Make And Model That Must Not Be Mentioned" (MaMTMNBM - tm) nearly like we were beamed down by the Starship Enterprise. Notice said MaMTMNBM making blocking moves to keep both ITS cars (ours and the green RX-7 that was chasing me) in arrears. Caution: language. Hey, just sayin'...
The other "incident" happens at 41:45 when I let a lapping ITS car** pass on the left side of the exit of the left-hander, and I could See Andy Bettencourt was going to take me on the inside of the right-hander on exit. Then, a MaMTMNBM (tm) decides to try and pass me on the outside of the subsequent right-hander. I was taken totally by surprise by such a bonehead (IMO) move, and was left with very little options. TINK! and off you go...
And, scroll to the very end of the video to see exactly why I was driving poorly starting about 18 minutes in. It's definitely one of those cases where "ignorance is bliss"...
** After the first incident, I got the car collected, but things didn't "feel" quite right. I was evaluating the situation (while still pulling 1:04s and 05s)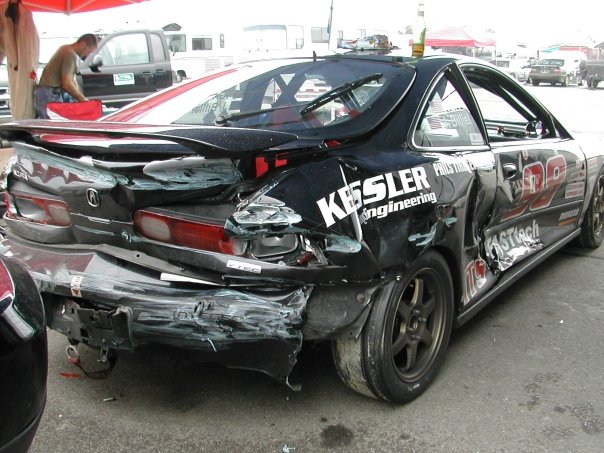 when up comes the overall leader; I let him by. A lap later we got a full course caution and all my competitors up front gained a lap on me, and my race was Well and Truly Over at that point. Thank you, come again. As competitors came rolling up on me I simply let them by, while simply trying to nurse the car home for a finish.
LRP Pro-IT Results and Greg's In-Car Video
Aug 8-10 - Greg was at Iowa Speedway (Newton, IA) supporting APR...
Aug 15-17 - Greg was at Trois-Rivieres Canada, supporting APR. What a neat city to visit!! Highly recommended...
Aug 28-30 - Greg was at New Jersey Motorsports Park (Lightning Circuit), supporting APR.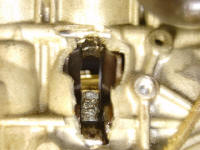 Sept 13 - Well, sometimes you get the bear, and sometimes the bear gets you. Greg, while pursuing a hotly-contested 2nd place at Watkins Glen, tangled with a backmarker while lapping and ended up against the wall in the Uphill Esses. The car is "repairable", but not economically so. More details to follow...?
Also, Joe wins on Saturday but decisively "done blowed up" his engine on Sunday.
Sept 26/27 - NARRC Runoffs. NARRC ITA Championship comes down to one race between Kakashi team mates Joe DiMinno and Jeff Lawton. Crazy Joe gets the nod, but not without a fight...
Oct 3-4 - Greg was at Virginia International Raceway, supporting APR.
Oct 10/12 - SCCA School/Enduro/Regional, WGI. Joe won, but that's all we get out of him on the details...
Nov 01 - Greg co-drives to a strong second place finish at the 13 Hours at VIR. Greg charges in last stint from 3 laps down to a 44.5-second defecit in only an hour-and-a-half...!
| | | |
| --- | --- | --- |
| Date | Venue | Result |
| 11-13 Apr | SCCA School/Regional, NHMS | DiMinno Wins ITA! |
| 10-11 May | SCCA Double Regional, Pocono | DiMinno Grabs a Pair at Pocono! |
| 25-26 May | SCCA Double Regional, NHMS | |
| 06-07 Jun | SCCA Regional, LRP | Cancelled |
| 13-14June | 12 Hours at the Point, SPR | Amy Manages ITB win at the 12! |
| 20-21 June | SCCA School/Regional, LRP | Cancelled |
| 5-6 July | SCCA Double Regional, Pocono | Kakashi Wins 'em Both at Pocono! |
| 19-20 July | SCCA Double Regional, NJMP | Two thirds for the team! |
| 26-27 July | SCCA Regional, WGI | Joe and Jeff support the team... |
| 02 Aug | Pro-IT, Lime Rock Park | Greg Finishes 5th in class |
| 08-10 Aug | I.T.SPEC*tacular 2008, Mid-Ohio | Joe Reps Kakashi Racing, first finishing non-CRX |
| 22-23 Aug | SCCA Enduro/Regional, NHMS | Jeff Lawton wins! |
| 23 Aug | SCCA Regional, NJMP | |
| 06-07 Sept | SCCA Double Regional, NHMS | |
| 13-14 Sept | SCCA Double Regional, WGI | Joe Wins! Joe Blows up! Greg Meets a Miata! |
| 26-27 Sept | SCCA NARRC Runoffs, LRP | Joe Wins NARRC Championship! |
| 10-12 Oct | SCCA School/Enduro/Regional, WGI | Joe Wins! |
| 01-02 Nov | 13 Hours at VIR | Greg co-drives to a strong second place finish. |
(T) - indicates tentative
Tracks
Nelson Ledges = Nelson Ledges OH
NHMS = New Hampshire Motor Speedway (nee, International Raceway), NH
NJMP - New Jersey Motorsports Park - Thunderhill
LRP = Lime Rock Park, CT
Pocono = Pocono International Raceway, PA
SPR = Summit Point Raceway, WV
WGI = Watkins Glen International Raceway, NY